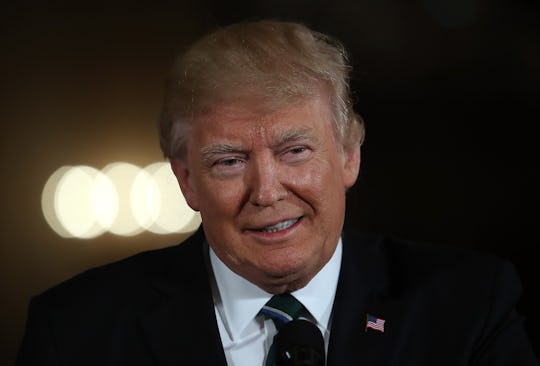 Justin Sullivan/Getty Images News/Getty Images
How Trump's Immigration Plan Affects Abuse Survivors
President Trump's administration's promises of and penchant for cracking down on undocumented immigrants has scared many people living in the United States illegally, and caused outcry among advocacy groups for undocumented individuals. In a recent development, it turns out it's also discouraged some domestic abuse victims from appearing in court, as they're afraid they'll be seen by agents from Immigration and Customs Enforcement, also known as ICE. According to Jezebel, "four women have since dropped their cases in which they were victims of "physical and violent assault," in one example of how Trump's immigration plan affects women and children in domestic abuse situations.
Under the new administration, "Immigration and Customs Enforcement agents have felt empowered to make arrests in raids at locations like homeless shelters and courthouses," Jezebel reported. And according to NPR, Denver City Attorney Kristin Bronson said that four women who have contacted her office have not pursued cases as a direct result of these arrests.
In particular, Bronson told NPR:
We had pending cases that we were prosecuting on their behalf and since January 25, the date of the president's executive order [on immigration], those four women have let our office know they were not willing to proceed with the case for fear that they would be spotted in the courthouse and deported.
Their fears are not unfounded. According to Jezebel, back in February, an undocumented immigrant was arrested at a courthouse in El Paso, Texas, where she had just been given a protective order against an ex for domestic abuse. So there is a precedent for ICE agents to come after women seeking court assistance in regards to domestic abuse.
Jezebel reported that Bronson has requested that ICE agents stay away from courthouses. She reportedly argued in an email to NPR:
ICE could just as easily work through the local jail here in Denver to apprehend these individuals and avoid frightening people in our community.
In a disappointing development, Jezebel reported that Bronson's office has apparently had to dismiss charges against the violent offenders in those four particular cases, as they now have no available testimony.
NPR reported that an ICE spokesman told the media outlet in a statement that although ICE does arrest people in courthouses, "generally it's only after investigating officers have exhausted other options." The spokesman said:
In such instances where deportation officers seek to conduct an arrest at a courthouse, every effort is made to take the person into custody in a secure area, out of public view; but this is not always possible.
It seems even the possibility of being found by ICE agents at a courthouse was enough to keep the four women Bronson spoke of away, out of fear of being found and deported.
Those are unfortunately not the only examples of women facing domestic abuse being impacted by immigration policies. According to The Daily Beast, a woman named Sara Beltran-Hernandez came to the United States illegally in Nov 2015, and was apprehended by Border Patrol agents before being placed in detention. The outlet reported that in court documents, Beltran-Hernandez said she came to the United States, "fleeing domestic abuse and threats of gang violence. She said she feared she would be killed if she went back to her country." According to the site, her asylum claim is currently in court.
If Beltran-Hernandez is sent back to her country, El Salvador, as a result of this administration's immigration plan, she feels she could literally be killed upon her return.
Mother Jones spoke with Archi Pyati, chief of policy and programs at the Tahirih Justice Center — a national non-profit that serves immigrant women and girls fleeing violence — who said, "A climate of fear has erupted across the country and among our clients." She said:
Beyond the letter of the actual orders and the laws that will come, they have already done a lot of damage and have already made women and children fleeing violence less safe...I can only hope that we can reverse that in the coming months.
Advocacy groups, lawyers, and many others are speaking out against the Trump Administration's immigration plan, particularly in regards to how it affects women and children fleeing domestic abuse and domestic violence situations. If you want to help, contact an organization like Tahirih Justice Center to see what you can do. You can also go to your political representatives about your concerns that new immigration policies and ICE actions are keeping women and children in domestic abuse situations from getting the help they need.