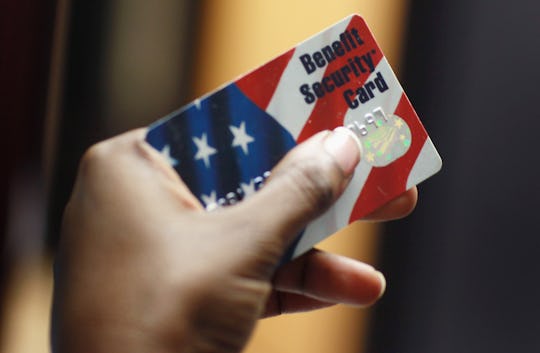 Joe Raedle/Getty Images News/Getty Images
Trump's Proposed Rule To Punish Green Card Applicants For Using Food Stamps Could Hurt Families
The Trump administration has become known for its tough approach to immigration policy. But a new proposed rule might be one of the harshest yet. This weekend, the administration proposed a rule that would make it harder for immigrants to obtain a visa or green card for using a number of programs, as CNN reported. And it's concerning, considering how the Trump administration's proposed rule to penalize green card applicants for using public assistance, such as food stamps, could ultimately hurt immigrant families more than help.
If this rule passes, immigrants in the United States who live, or are looking to live, in public housing, use food stamps or Medicaid for health care, for instance, could be in trouble when they go to apply for a green card, according to CNN. Using certain public benefits, under this new proposal, could "expand the government's ability to deny immigrants residency or visas if they or family members benefit from aid programs," as NPR explained.
The new proposal, put forth by the Department of Homeland Security (DHS), states that immigrants who receive more than $1,812 annually in benefits from government programs will "be disqualified from receiving green cards or visas," according to NBC News. Rules similar to this were put in place before — as far back as the 1800s, known as "public charge" — to "deny entry to immigrants" who would "become a drain on the economy," as NBC News explained.
A representative at the DHS did not respond to Romper's request for comment at the time of publication.
This new rule is a re-write of a 1999 rule, under President Bill Clinton, which limited green cards dependent on "cash benefits," according to NBC News. But unlike the old rule, this new proposal includes "the largest federal programs for low-income people", which are actively used. It would affect more than 382,000 people a year, according to BuzzFeed News. It is also important to note that undocumented immigrants are not eligible for food stamps, according to the National Immigration Law Center, and only 4 percent of food stamps recipients are non-citizens. Additionally, as The New York Times reported, this proposal would not affect refugees and legal immigrants in the military.
Proponents of the rule, such as Department of Homeland Security Secretary Kirstjen Nielsen, say it will "promote immigrant self-sufficiency," as she explained USA Today:
Under longstanding federal law, those seeking to immigrate to the United States must show they can support themselves financially. This proposed rule will implement a law passed by Congress intended to promote immigrant self-sufficiency and protect finite resources by ensuring that they are not likely to become burdens on American taxpayers.
However, promoting "self-sufficiency" isn't enough to help those who are in need. People immigrate to the United States for many reasons, one being that they may be escaping violence and poverty in their home countries, according to Global Citizen.
If this rule goes into effect, there could be a ripple effect of harmful consequences. For example, it could leave people (and their families) hungry because they can't use food stamps. They may avoid going to the doctor because it's too expensive without Medicaid. They may be without options for a place to stay because they wouldn't be able to apply for public housing. Jackie Vimo, a policy analyst at the National Immigration Law Center, further explained this to BuzzFeed News:
This is an inhumane attack on the health and well-being of countless families and communities. It is a new family separation policy, and it will lead to families being torn apart or becoming sick and hungry. Trump's new proposal is an end run around Congress to radically transform our immigration system where green cards go to the highest bidder.
Additionally, Sonya Schwartz, a senior policy attorney with the National Immigration Law Center, told Politico that this proposal is "way to cut down on people enrolled" in public benefit programs, adding that it would particularly target kids. And that makes sense, as Julie Linton, the co-chair of the American Academy of Pediatrics Immigrant Health Special Interest Group, told TIME that "one in four children in the U.S. live in an immigrant family and nine out of 10 of those kids are U.S. citizens."
Although this program would save federal tax payers billions annually, according to USA Today, it could also harm thousands of immigrants and their families in the process.
These changes have not yet gone into effect; there will be a 60-day public comment period that DHS will have to review, according to CNN, and it is likely that advocacy groups will challenge it in the days to come.