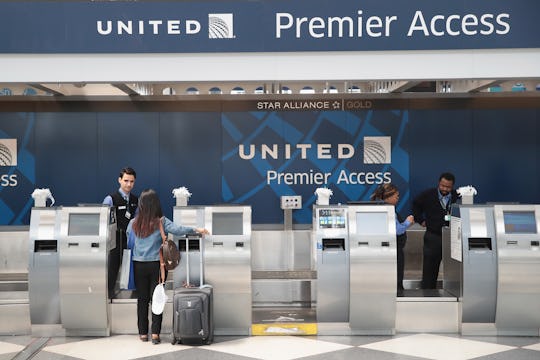 Scott Olson/Getty Images News/Getty Images
United Is Changing Its Policies On Displacing Passengers
Following the horrifying incident in which a passenger was violently dragged off a plane in Chicago, United Airlines has updated its policies as a way to avoid having to deal with any future scheduling fiascos. According to The Washington Post, under this new policy change, the airline will no longer allow crew members to displace passengers who are already seated on a plane. The policy change comes less than a week after Dr. David Dao was forcibly removed from an overbooked United flight so that a crew member could take his seat on the plane, even though he had already boarded and been seated on the aircraft bound for Louisville.
According to an internal email from April 14 first published by TMZ, the policy change states that crew members who are not checked in 60 minutes or more before the estimated time of departure will have to book the next available flight. The change is effective immediately.
"This is so the denied boarding process in an oversell situation may be implemented in a gate or lobby area and not on board the aircraft," the email said, according to TMZ.
The email continued to state in bold letters that no crew member "can displace a customer who has boarded an aircraft" and "there will be no deviation" from the new policy.
According to The Washington Post, United spokeswoman Maggie Schmerin confirmed the authenticity of the published email and said that the new policy is to ensure that such incidents will "never happen again." Before the incident with Dao — who was one of four passengers asked to leave the oversold United flight so airline employees could board the plane — crew members could reportedly be booked on a flight up until the time of departure.
United has continued to face fallout since videos of Dao screaming as he was dragged off Flight 3411 went viral on social media. An attorney for the 69-year-old passenger reportedly said that he suffered a concussion, broken nose, and a sinus injury during the incident with Chicago Department of Aviation, according Fortune.
"That is not who our family at United is. You saw us at a bad moment," United Airlines CEO Oscar Munoz said during an interview with ABC News that aired earlier this week on Good Morning America. "We are not going to put a law enforcement official onto a plane to take them off… to remove a booked, paid, seated passenger. We can't do that... this can never, will never happen again on a United Airlines flight… that's my promise."
Meanwhile, Dao's attorney reportedly said that they will "probably" file a lawsuit against the airline. It's too soon to say what the verdict of this case might be, but United's approval ratings have taken a steep dip since this most recent incident.
While this policy change is certainly a step in the right direction for the airline's paying customers, United still has a lot of work to do to fully recover from this fiasco.