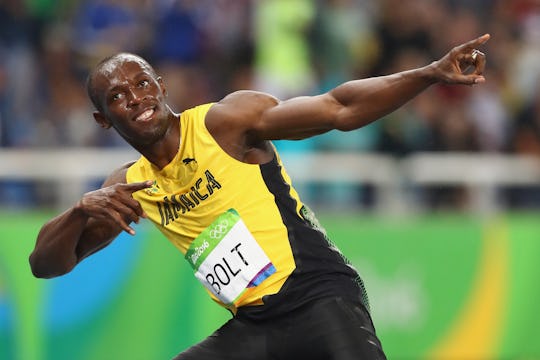 Alexander Hassenstein/Getty Images Sport/Getty Images
How Usain Bolt Is An Inspiration For The World On & Off The Track
Usain Bolt is the fastest man alive. As destiny would have it, his last name, Bolt, truly describes what it's like watching the Jamaican Olympian take off on the track. It's tempting to call it magical, but really, it's important to recognize he's the epitome of natural talent and dedication and hard work. Bolt deserves full credit and glory for his jaw-dropping accomplishments. And his Olympic gold-winning, 200-meter race in Rio Thursday night proved, again, that he is truly the greatest. But Bolt means so much more than his history-breaking track record – his image is powerful for everyone, and particularly, for Jamaicans, and black people throughout the diaspora. Here's how Usain Bolt is an inspiration for the world on and off the track. In a time of widespread systemic racism and oppression, Bolt is a light – a lightening bolt, that is.
Bolt, 29, was born in a rural community called Sherwood Content in the Trelawny Parish in Jamaica, according to the Jamaica Observer. He stands tall at 6-feet-5-inches, and is known for his long victorious strides.
Many people will remember where they were in 2008 when Bolt broke the new 100-meter world record at the Summer Olympics in Beijing. I can vividly remember being home from college crowded around my family's living room TV, and next to my Jamaican parents who could not contain their excitement. We are always proud to be Jamaican, but seeing Bolt electrify the world with black, green, and gold on his back is an indescribable feeling.
And that's just it, Jamaica is a beautiful country, and Bolt reminds the world why it has so much more to offer than what you see on TV.
Bolt Reminds The World Why Jamaicans Are So Proud
‌I've always felt that images shown of Jamaica are polarizing: beautiful beach resorts are often juxtaposed with slums and violence. And while the country undoubtedly battles violence and corruption, there's so much beauty in its art, culture, and varying communities throughout the island. My fondest memories are visiting my aunt's house just outside of Kingston (the capital) and exploring the city for great eats, shopping, and, of course, parties with my cousins. There's such a rich sense of community and pride — and Bolt evidently carries it with him as he travels the world. You can literally feel it when he strikes his signature lightening bolt pose. ‌
And Bolt's pride in his home country certainly doesn't end with his pose. In 2015, the track superstar donated $1.3 million to his high school alma mater, William Knibb Memorial High School, as well as sporting equipment and supplies, The Gleaner reported. More recently, he demanded that his ad photo shoots be done in Jamaica, in order to provide more jobs on the island.
He never forgets where he comes from, no matter how far or fast he goes.
He's Unapologetically Confident – As He Should Be
Black male bodies have long been hypersexualized, and subjected to dangerous stereotypes connected to violence and criminal activity. Implicit biases and overt acts of racism – seen critically in disproportionate police violence – makes it dangerous to be a black man in many situations (black women and black transgender people also face unique marginalizations).
But Bolt enters every race with unapologetic confidence, dance moves, and a striking smile. It's an important carefree attitude that goes against a lingering history of oppression throughout the diaspora. Many famous black athletes now, and throughout history, have shown a similar confidence, and Bolt adds to the list of greats who are unapologetically proud. And Bolt certainly has the world record to back up his celebratory style — let's face it, when you're the fastest man on the planet, you're allowed to beat your chest into the finish line.
Bolt Is A Family Man, & A Man Of The People
Aside from Bolt's presence in Jamaica (see this fan video of his loyal Jamaican fans, which is what I'm sure I looked like Thursday night), he seems to be well-liked in places he visits. Recently in Rio, Bolt visited children from local communities, and notably danced Samba with Brazilian dancers at a press conference leading up to the Games.
Bolt's team camaraderie is admirable, too. He has a supportive relationship with Jamaican Olympic sprinter Yohan Blake, and his family ties also appear to be strong. Cue the relatable CNN interview with his mom, Jennifer Bolt, saying she wants her iconic sprinter son to "settle down, get married and start his family."
Bolt is one-of-a kind and inspirational. And to keep things completely authentic:
"Jamaica to di world!"