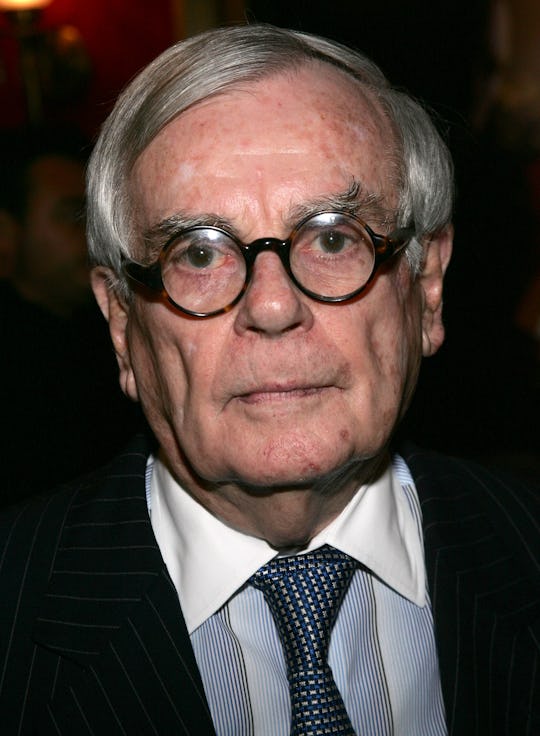 Evan Agostini/Getty Images Entertainment/Getty Images
How Was Dominick Dunne's Daughter Murdered? The Reporter Had A Tragic Connection To The O.J. Simpson Trial
The 1995 murder trial of O.J. Simpson certainly produced its fair share of celebrities – Kato Kaelin, anyone? But one person involved in the case was already a celebrity in his own right: writer and producer Dominick Dunne, who covered the trial extensively for Vanity Fair. And although he reported on other high profile murder trials both before and after Simpson's (most notably the trials of the Menendez brothers, and Kennedy cousin Michael Skakel), undoubtedly this trial was particularly close to his heart: Dominick Dunne's daughter, Dominque, was murdered by her abusive ex-boyfriend 12 years before Nicole Brown Simpson's tragic end.
While Simpson was found not guilty at the end of his criminal trial, Dunne was always very vocal in his assertions that Simpson was guilty of murdering his ex-wife and her friend, Ronald Goldman. The prosecution laid out a case claiming that Simpson had allegedly abused his wife prior to their divorce, and presented evidence, including a recording of a 911 call, to back up their claims. Surely, for Dunne, this brought to mind the untimely death of Dominque, a 22-year-old up-and-coming actress, who was killed by John Thomas Sweeney. Sweeney was convicted of manslaughter for strangling Dominque in her front yard on Oct. 30, 1982. Dominque lost consciousness and suffered brain damage as a result of the assault, succumbing to her injuries five days later.
If Dominque's story sounds familiar, it could be because her murder was the first in a string deaths that some blamed on the so-called "Poltergeist curse." Dominque played the teen daughter of the Freeling family in the 1982 horror classic. But it was no curse that took Dominque's life. In Vanity Fair, Dominick recounted that he and his sons were uncomfortable around Sweeney from the day they met him, and described Sweeney flying into a violent rage in a restaurant after seeing his then-girlfriend chatting with a fan who recognized her from the film.
Dunne expressed remorse at not seeing the signs and speaking out about Sweeney before it was too late. During the trial, it came to light that the Oct. 30 strangulation was not the first time that Sweeney had assaulted Dominque, nor even the first time that he'd strangled her. That occurance had actually been five weeks prior. The Dunne family later learned that the previous assault was so severe, it reportedly left bruises. When Dominque guest-starred on Hill Street Blues an abused teen the following day, there was no need for makeup.
Sweeney was convicted of voluntary manslaughter for the strangulation that led Dominque's death, and misdemeanor assault for the previous incident. He served less than four years in prison, which understandably enraged the Dunne family.
Seeing Simpson acquitted years later must have stung that much harder for Dunne. But there is something of a silver lining to the story: In 2008, while battling bladder cancer, Dunne faithfully attended Simpson's robbery and kidnapping trial, where, according to The New York Times, Dunne noticed "a loneliness, a sadness about O. J." that he had never seen before. "I think he understands how wrecked his life is," he told the paper.
Ultimately, Dunne was able to battle the disease long enough to witness what he said was a "verdict that should have come 13 years ago", before succumbing to his cancer in 2009. Although his life may have been full of tragedy, in the end, it seems he finally lived long enough to see justice served.