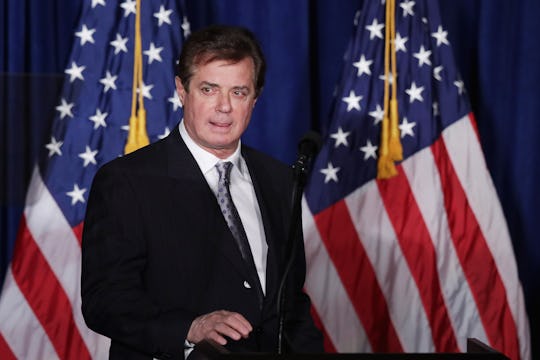 Chip Somodevilla/Getty Images News/Getty Images
How Was Paul Manafort Involved With Russia?
Paul Manafort, the man who held the title of now-President Donald Trump's campaign manager for the shortest amount of time, has been notorious for his quasi-Russian ties due to his previous work with Ukrainian leader Viktor Yanukovych, but now, the Associated Press has found additional proof that that Paul Manafort was allegedly involved with Russia. The outlet reported on Wednesday morning that Manafort "secretly worked for a Russian billionaire to advance the interests of Russian President Vladimir Putin." The Trump campaign has not responded to a request for comment.
According to the AP, Manafort made an offer to Oleg Deripaska, a close ally of Putin's, to influence U.S. "politics, business dealings and news coverage" to benefit Putin in 2005, and the pair eventually signed a $10 million annual contract that lasted "until at least 2009." The AP cites several confidential sources familiar with the dealings, and claims to have obtained documentation backing up the story, as well. In a statement to the AP, Manafort said that his work with Deripaska was limited to "representing him on business and personal matters" and "did not involve representing Russia's political interests." In 2008, a Deripaska spokesperson denied ever working with Manafort.
Manafort was elevated to the role of Trump's campaign manager following the firing of his predecessor, Corey Lewandowski, who was accused of assaulting a reporter at a campaign event. He was replaced by Kellyanne Conway just a few months later, after his previous work for Ukraine's pro-Russia leader drew suspicion. Alleged text messages recently revealed by a hack of Manafort's daughter, Andrea's phone suggest that Manafort was responsible for the police shootings of Ukrainian protesters. "You know he has killed people in Ukraine? Knowingly," one message read, according to CNN. Other messages said that Manafort "has no moral or legal compass" and referred to the family's wealth as "blood money." Manafort confirmed to Politico that at least some of the messages were authentic. Manafort's spokesperson did not immediately reply to Romper's request for comment.
Manafort was the first in an increasingly large collection of Trump staffers accused of colluding with Russia. Former national security adviser Michael Flynn resigned in February after it was revealed that he had contact with Russian ambassador Sergey Kislyak. Secretary of State Rex Tillerson has had ties to Russia for decades, according to The Atlantic, and plans to travel there next month in lieu of a scheduled NATO meeting. Former Trump adviser Carter Page lectured at a Russian university during the campaign, and also spoken with the ambassador, according to the Washington Post. Attorney General Jeff Sessions and Trump's son-in-law Jared Kushner also met with Kislyak, and another adviser, Roger Stone, is under scrutiny for his Russian ties, The New York Times reported, and although he claims to have "no Russian influences," he has admitted to communicating with WikiLeaks. FBI Director James Comey said on Monday that the bureau is investigating the Trump campaign's connections with Russia. Trump insists that any connection between his campaign and Russia is "fake news."