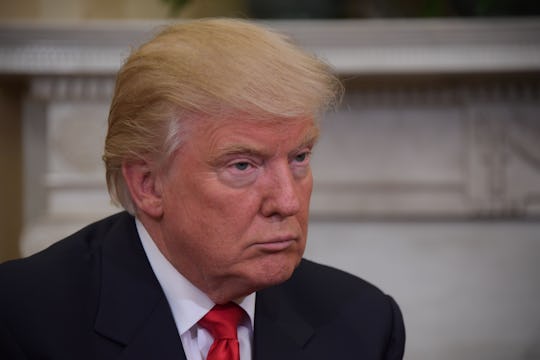 JIM WATSON/AFP/Getty Images
How Will A Trump Presidency Affect Kids? Some Kids May Be Left Out Of His Plans
So much attention has been given to president-elect Donald Trump's scandals during his election that it's easy to forget what his policies are on important issues. And there's no issue more important than our children because they are America's future. So here are some of Trump's plans that parents everywhere care about. How will a Trump presidency affect kids?
Trump may follow the steps of his vice president-elect Mike Pence, who pushed for a state-funded preschool program for low-income children in Indiana, at a federal level. The program's popularity showed that there is a real need for more educational opportunities for the nation's youngest children. But if such a program is put into place, it likely won't be available for children who are undocumented immigrants, as was the case in Indiana.
Trump has also promised in his campaign to eliminate the Common Core State Standards. However, Trump does not have the authority to do so, because individual states set those standards, not the federal government. Trump has had a lot to say about our education system, including that he wants to minimize, or possibly get rid of, the Department of Education. Republicans have tried to scale back the Department of Education before, with minimal success in terms of helping kids' educational outcomes. Here are some more of Trump's policies.
Trump's Plan On Education (That Involves Ben Carson)
Trump has been a big advocate of parents having a choice of schools for their kids. He wants to increase the use of vouchers that help students pick the schools regardless of whether they are charters, private schools, magnet programs, or public schools. Trump wants to give $20 billion in federal money towards this goal. But opponents argue that charter schools take away money from already-struggling public schools.
Trump is considering Ben Carson as his Secretary of Education, which was first reported to Education Insider. Yes, the man who doesn't believe in evolution. I'd be worried, too.
Trump Offers A Limited Paid Leave Plan
America is the only developed nation without some sort of paid family leave. Surprisingly, Trump supports paid maternity leave, and has a plan that offers women six weeks of partially paid maternity leave. However, paid leave will only be available to women who have given birth, not men, same-sex partners, or anyone who needs family leave for reasons other than pregnancy.
The plan would cost $2.5 billion a year, and provide an average benefit of $300 per week. That being said, Trump may have a difficult time implementing a paid leave plan: many Republicans are against it because of the financial impact it may have on companies — a fear that has been largely proven false. Not to mention, we're talking about something that should be a basic right for working parents.
A representative for Republican Congressman Diane Black told The Wall Street Journal that she "wants to see more businesses adopt paid-leave policies, but she does not support mandates to this effect at the federal level."
The Child Care Plan That's Basically Not About Working Moms At All
Along with his daughter Ivanka, Trump proposed a tax deduction for child care. Parents can claim up to four children in Trump's plan, from ages 0 to 13. But is Trump's plan actually about child care?
"We need working mothers to be fairly compensated for their work, and to have access to affordable, quality child care for their kids," Trump said at a Pennsylvania campaign speech in September.
That's a nice sentiment, but critics of Trump's proposal have pointed out that the plan is based on having a child (whether the mother is working or not), and is available both to families that have their children in child care programs and those who don't. So the plan doesn't actually target working mothers.
And tax deductions will benefit rich women more than poor ones.
Children of LGBTQ Parents Won't Receive The Same Benefits
For children of LGBTQ parents, many are excluded from the benefits of Trump's proposals. Gay male parents are excluded from Trump's paid leave plan since it only applies to women. And child care tax deductions will be available only to same-sex couples whose marriages are recognized under state law. This means parents in 13 states will not benefit simply because they are gay.
And it's not just parents who are "others" who may be affected by Trump as president. Children across the country who are "others" in one way or another are already feeling the impact of Trump's election. That may be the most important effect of Trump's presidency on kids there can be.