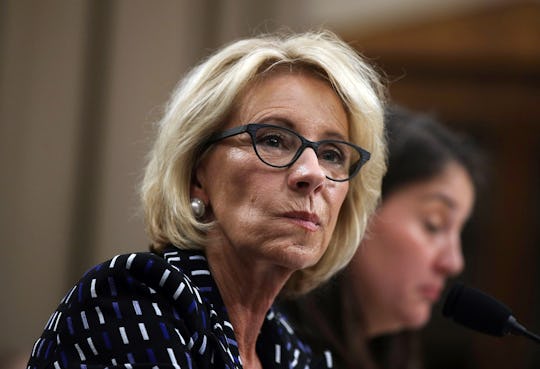 Alex Wong/Getty Images News/Getty Images
Why Betsy DeVos' Approach To Campus Rape Is Flawed From The Get-Go
One in four. That's how many female college students experience sexual assault at college, according to the U.S. Bureau of Justice Statistics. Most students, though, won't report being raped to their school because colleges are notorious for failing survivors. A 2011 Department of Education directive on sexual assault sought to protect rape victims, but critics claimed the guidance striped the accused of their rights. And it's a stricture bought by the current education secretary, who plans to revamp the guidance. But how will Betsy DeVos change campus sexual assault policy? The Secretary of Education hasn't outlined her plans for reform, although she's hellbent on protecting the rights of the accused.
On Thursday, DeVos announced during a speech at George Mason University's Arlington campus that her office will change the Obama-era policy that directed colleges and universities to investigate sexual assault reports under Title IX, according to The Hill. Though she didn't give details about the changes, DeVos said that the Department of Education will launch a public notice and comment period for public input on how her office could better enforce Title IX, the federal law prohibiting sex discrimination in education, The Hill reported. The process, she added, could take months.
Unsurprisingly, DeVos was focused specifically on the rights of those accused of sexual assault or harassment. According to the Washington Post, she claimed that former President Barack Obama "weaponized the Office for Civil Rights," harming students who have been "falsely" accused of rape.
Critics of the Obama-era guidance — like the men's rights activists DeVos met with in July — claim students who have been accused of sexual assault have lost their due process rights. In a show of barely veiled rape apologism, they frame the campus adjudication process as "unfair to the accused" because the end result could hurt their future success. Sound familiar? It's similar reasoning used to justify the exceedingly light sentence handed down to Brock Turner, who was convicted of sexual assault last year.
This is not to say that the way schools handle sexual assault investigations and hearings doesn't have its problems. It absolutely does. But, as with the criminal justice system, those issues with the system are often at the expense of the survivor, not the accused. Take this for example: According to Huffington Post, less than one-third of campus sexual assault cases actually end in expulsion, while less than half end in suspension. And that's if the college even follows through with a sexual assault report; as ProPublica reported in great detail, many cases are poorly investigated. The victim is left retraumatized, while the accused is given a slap on the wrist.
Even worse: In some cases, survivors have died by suicide because they were disbelieved, shamed, and bullied after reporting a rape to their college.
DeVos said she wants to change Obama's sexual assault policy so that the rights of students falsely accused of rape are better protected. She said that one student's rights shouldn't trump the other's during the adjudication process. But it's hard to believe this is a matter of fairness when the "failed system" DeVos lambasts has been far more damaging to victims in the first place.