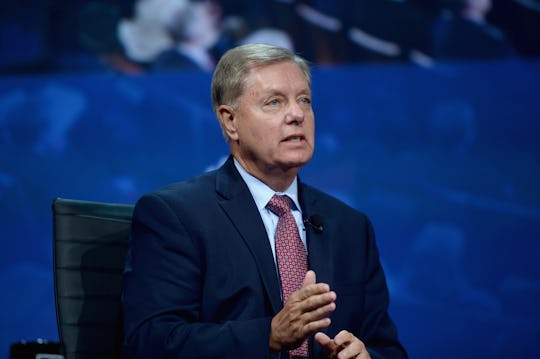 Riccardo Savi/Getty Images Entertainment/Getty Images
How Will Lindsey Graham's "Dreamers" Legislation Help Immigrants? It's Still In The Works
When President-elect Donald Trump won on Nov. 8, many wondered what would become of Trump's immigration policy and how harsh it would really be. President Barack Obama worked hard to protect young illegal immigrants throughout his tenure in office, and now, with Trump taking over, there is no telling what he might repeal. But there is hope — Republican Sen. Lindsey Graham is working on cementing Obama's legacy with new legislation meant to protect "Dreamers" — undocumented immigrants who came to the United States as children. It might seem a little strange to introduce legislation like that directly ahead of a Trump presidency, but if you were wondering whether or not Lindsey Graham's "Dreamers" legislation would actually help immigrants, at least some of your fears should be quelled, for the time being.
In short, the legislation would continue to allow undocumented immigrants who came to the United States as children to live in the United States and would give them extended legal protections. Those "Dreamers" were initially granted relief under Obama's Deferred Action Against Childhood Arrivals program, which was introduced in 2014, according to The Washington Post. This act, which immigrants had to apply for, protected them from deportation and gave them permits to legally work in the United States. When immigrants applied for DACA, they "willingly gave personal information to the federal government and went through background checks," according to Politico. Over 740,000 immigrants are protected under DACA.
If Trump were to repeal Obama's action, it could immensely hurt these immigrants and their families. Graham's bill saves these people from that pain and would allow them to live in the United States, as they have their entire lives, protecting their freedom to work without worrying about being at risk for deportation. According to The Hill, DACA "defers any deportation actions related to immigration violations." Graham told Politico:
The worst outcome is to repeal the legal status that these kids have. Whether you agree with them having it or not, they've come out of the shadows. It's basically going to be, if you have legal status, you'll continue [to have] legal status. I think it would pass overwhelmingly.
Graham's bill could indeed have the potential to pass overwhelmingly — as it would definitely have support from House Democrats. Democrats are currently asking Obama to pardon these Dreamers as well, in order to protect their futures. A pardon would not grant Dreamers citizenship, but would instead "allow them to live without fear of removal." While representatives from the White House have said a pardon is "unlikely," according to CNN, Graham's bill, if passed, will continue to help them live under the protections that Obama previously granted them, regardless.
Whether the legislation actually passes is yet to be determined. Graham's legislation is currently being drawn up and won't be introduced into Congress until next year, according to Politico. But Dreamers have reason to be hopeful, as Graham is working with both Republicans and Democrats — and the more support it has from everybody, the more likely it is that it will pass.
Three years after its initiation, researchers have discovered that DACA "significantly improved the lives of it's recipients." Graham's legislation would continue that positive trend, no matter what decisions Trump and his administration make.