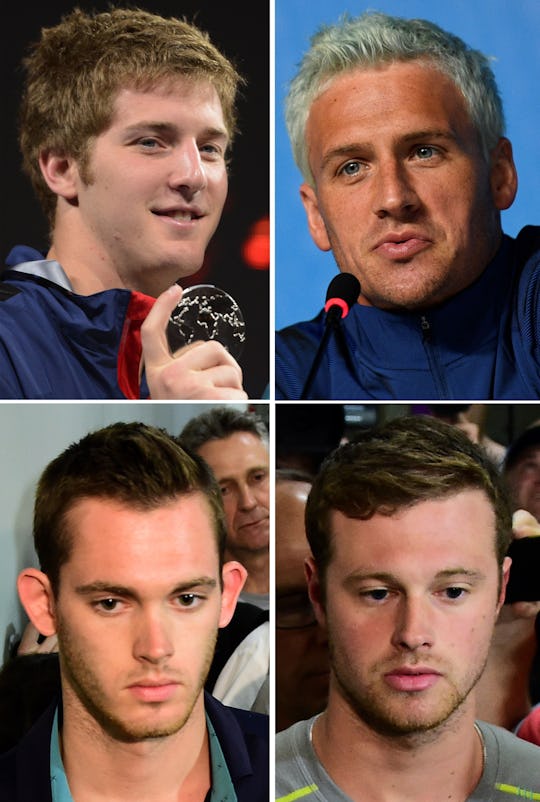 AFP/AFP/Getty Images
How Will Lochte & His Teammates Be Punished? Lochte Could Face Fines And Lose Endorsements
By now, everyone has heard about Ryan Lochte's saga in Rio — and I'm not talking about his performance in the 2016 Summer Olympics. I'm talking about the story that has been making headlines all across the world — the one where Ryan Lochte claimed he and three other Team USA swimmers were robbed at gun point, but fellow swimmers admitted otherwise. Other than facing major public scrutiny, how will Lochte and his teammates be punished for filing a false police report?
No formal action has been taken by the IOC or Brazillian officials yet, and it is unclear whether or not both parties will make a formal action in punishing Lochte and fellow swimmers: Jack Conger, Gunnar Bentz, and James Feigen. However, plenty of people are suggesting for Lochte to be punished for his action.
But what kind of punishments are people suggesting, exactly? And will a punishment even happen? According to People, "criminal charges have been reportedly recommended for U.S. Olympic swimmers James Feigen and Ryan Lochte." According to People, three separate sources confirmed this recommendation. According to ABC News, Lochte and Feigen could face charges for filing a "false police report."
But the U.S. Olympic Committee is keeping shy about any making any potential punishment towards the swimmers, telling ABC News:
The behavior of these athletes is not acceptable, nor does it represent the values of Team USA or the conduct of the vast majority of its members. We will further review the matter, and any potential consequences for the athletes, when we return to the United States.
According to People, if Lochte and Feigen are found guilty of falsely reporting a crime, they could face "one to six months' detention" or have to pay a fine. Bentz and Conger did give conflicting testimony to Lochte and Feigen's which allowed investigators to have a clearer picture of the alleged robbery. Bentz and Conger were able to return home on Thursday, according to USA Today.
According to the New York Times, however, on early Friday morning, Feigen agreed to pay $10,800 "to a Brazilian organization called The Reaction Institute to avoid prosecution" and according to ABC News, will be free to leave Brazil after the payment is made to the charity. It has not been reported as to whether or not Lochte will do the same.
Luckily for Lochte, it doesn't seem as if he will face any major punishment, at least according to Judge Marcello Rubiolo, the head of the court handling the case in Brazil. Rubiolo told the New York Times, that "making a false claim in Brazil was 'not that serious' and 'results in very little punishment'." "If they are found guilty, they would just have to make a payment to an N.G.O. that does humanitarian work," Rubiolo said. This payment is presumably what Feigen has already done.
But paying a fine just might only be one of the punishments Lochte faces. According to Time, Lochte is likely to lose "millions in endorsements" after the scandal which can be a major punishment to Lochte's image and bank account.
While a monetary punishment might not be a huge deal, Ryan Lochte's public image might not be in the best light after this controversy — which to me, is punishment in and of itself.