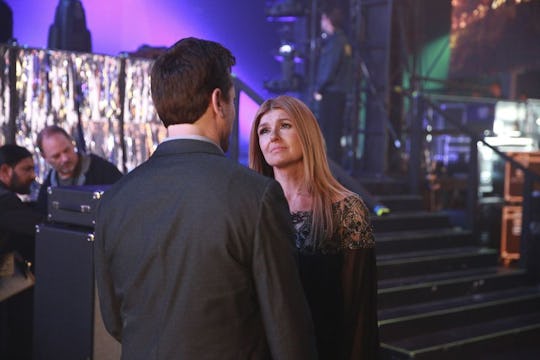 Mark Levine/ABC
How Will 'Nashville' End? The Finale Should Still Feel Complete
So, Nashville fans got some awkward news this week. After spending basically spent every one of its four years on air on the bubble during cancellation season, Nashville has finally been cancelled by ABC. It did not get picked back up for a fifth season, and, while its production company Lionsgate tweeted that they were doing their best to save Nashville from ending forever by shopping the series around to other networks, it seems a safe bet that Season 4 will be its last. So how will Nashville end? Unfortunately, the May 25 finale is already in the can, so there might not be much writers can do to craft the show a proper send-off. Warning: spoilers from released information about the upcoming season finale.
In fact, a fan asked TVLine's Michael Ausiello if Nashville shot an alternate series finale, just in case the show wound up cancelled and he replied, "I sincerely hope they did, considering the season finale ends on a massive cliffhanger." Uh, whoops. The other plot points he teased were that Jeff Fordham's name would be invoked several times, someone declares their love for someone else, and "at least one couple grows closer."
From the series itself, we have the finale's synopsis and production photos — eerily titled, "Maybe You'll Appreciate Me Someday" — which tease:
"Rayna resorts to drastic measures when she learns that Maddie has crossed paths with a duplicitous figure from her past. Juliette must choose how to publicly reckon with the truth of Jeff Fordham's death — a decision that directly affects Layla. Scarlett and Gunnar consider parting ways as bandmates, and Will finally decides to do what he should have done long ago — step up as the leader of a cause and a community."
The production stills also feature a happy-looking Rayna and Deacon, so it seems as though she's at least forgiven him for his role in pushing Maddie away. My money's on them for the "couple that grows closer" spoiler. The "duplicitous figure" from Rayna's past is, of course, the label head from her first ever recording deal, who is now trying to ink a deal with an emancipated Maddie. Juliette addressing Jeff's death publicly seems like a powderkeg, and I'd be willing to wager that this plot point is the target of this season's cliffhanger moment.
If Scarlett and Gunnar part ways as bandmates, let it be because they've decided to get back together and can thus no longer be "The Exes." Because if their will-they-or-won't-they doesn't end in at least a "they might," then fans might actually set fire to The Bluebird in real life.
Will finally getting woke to queer identity and the role he plays in lending visibility to gay fans in the country music scene is the only remotely satisfying moment of closure it sounds like the Season 4 finale has in store. Unless production slaps together some last minute scenes to swap out in the finale, it looks like Nashville will likely go the way of so many awkward, untimely series finales before it.