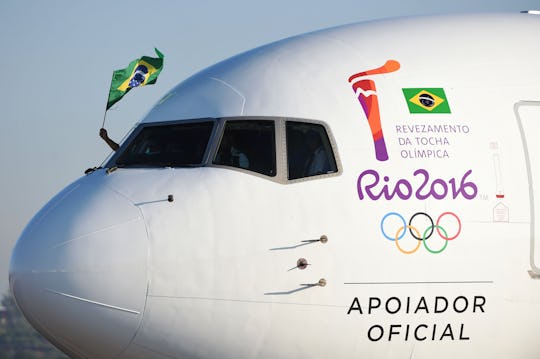 EVARISTO SA/AFP/Getty Images
How Will Olympians Keep From Getting Zika In Rio? Organizers Aren't Downplaying The Threat
Since the Zika virus epidemic in Brazil gained international attention, the future of the 2016 Rio Olympic Games seemed uncertain. The virus' ties to microcephaly and Guillain-Barre syndrome forced Olympic committees all over the world to consider whether they could safely send teams to South America. How will Olympians keep from getting Zika in Rio? Health agencies and Olympic officials suggest that athletes take specific precautions to avoid infection.
In February, the Centers for Disease Control and Prevention advised pregnant women to consider avoiding both the Summer Olympic Games and the Paralympic Games due to concerns about microcephaly caused by the Zika virus, according to Forbes. Many athletes wait to have kids until their training for the Olympics is complete, according to The Boston Globe. Though it seems clear a Zika infection is not a threat to future pregnancies, Olympians who contract the virus could travel back home and then spread it after a local mosquito bites them. Men face a different kind of uncertainty: Zika virus can be sexually transmitted and may live in semen for months, the Daily Mail reported.
Some organizations encourage athletes to attend the games without fear. World Health Organization director Margaret Chan told USA Today Sports that while Zika virus is genuinely dangerous, Brazil is working hard to fight the epidemic:
This is the time for solidarity because we have a very formidable enemy. Zika is a mysterious and tricky virus. We are going into a long haul. We don't know what surprises it will continue to deliver.
And, the timing of the Olympics works in Brazil's favor. According to The Boston Globe, the summer games are actually taking place during the country's winter, when the number of mosquitos is at its lowest. As of February, organizers were also inspecting facilities to ensure that there would be no places on the grounds where mosquitos could easily breed. President Dilma Rousseff is confronting Zika virus at the federal level, coordinating 40,000 health inspectors who are going door-to-door to conduct tests, USA Today reported.
Some countries are taking protection of athletes into their own hands. Though news of Zika virus' spread came too late to lead to competition uniform alterations, South Korea's Olympic committee designed uniforms for ceremonies and training with the epidemic in mind, according to U.S. News & World Report. Athletes will wear long pants and long sleeves; the fabric is packed with mosquito repellent.
Even if they don't have special uniforms, there are steps athletes can take to stay safe. Organizers encourage those attending the games to wear mosquito repellent, The Guardian reported. The director of medical services for the Rio Olympic Games, João Granjeiro, said that athletes should turn their air conditioners on and keep their windows closed in order to keep mosquitos out of their rooms. Though organizers are struggling to sell tickets to a wary public, the Olympics are still expected to move forward as scheduled.