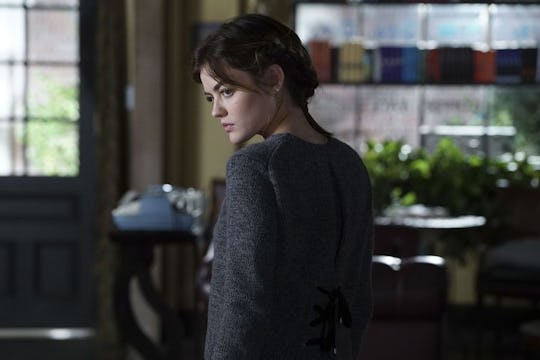 Eric McCandless/Freeform
'Pretty Little Liars' Will Have An Emotional Ending
It's almost unbelievable that Pretty Little Liars started seven years ago and is now coming to a close. Throughout the years there's been tons of drama, murders, and, of course, lies in the town of Rosewood, PA, and with only two episodes left, it's almost time to say goodbye. So how will Pretty Little Liars end? Well, you'll probably want to grab a tissue box when the finale rolls around.
Both the cast and creator I. Marlene King have stated that the series finale will be "emotional" and pretty much everyone cried through the final table reading and the final shot being filmed. "We tried really hard in the finale, as Shay [Mitchell] was saying, to deliver really high-stakes emotion but also high-stakes mystery, too," King told Entertainment Weekly about the PLL finale during a recent interview.
In terms of what will make fans so emotional, they'll be both happy and sad moments. The happy moments will most likely come from the show's main couples since King has promised that "all the endgames will be endgames." All four couples had some very steamy love scenes in the most recent episodes and though there may be some rough patches still ahead, in the end everyone who is meant to be together will be together. Also, before the show ends, there will be one more wedding, so fans can certainly look forward to that.
The sad moments will most likely come in the form of one, or more, deaths. Way back in September, King tweeted out a line of dialogue from the finale script that reads, "Are you here to kill me?" Now in the Australian trailer for the finale, fans can see that it's Mona who utters the words. Fans have been speculating that Mona will die for a while now, and this just seems to be more evidence regarding her potentially grim fate.
As for the reveal of Uber A, or A.D., it will also be a sad story. When asked why A.D.'s reveal will be so sad, King wrote on Twitter, "Because every villain has a real human story. The best villains are relatable people." Additionally, though A.D.'s reveal will be sad, it won't be totally surprising, because fans have actually seen A.D. before. They just haven't been aware of it yet. It's also worth noting that Janel Parrish, who plays Mona, recently told Entertainment Tonight that after A.D.'s reveal, there will be a full explanation about how this person became A.D. and why.
Besides that, everything else is being kept under wraps, but thankfully fans don't have much longer to see how PLL comes to a close.
Pretty Little Liars airs on Tuesdays at 8 p.m. ET on Freeform.