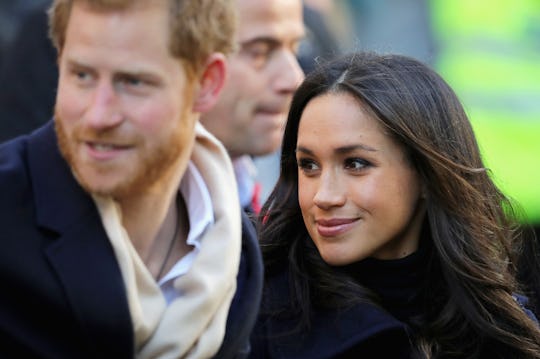 Christopher Furlong/Getty Images Entertainment/Getty Images
Here's How Prince Harry & Meghan Markle Will Be Spending The Holidays This Year
Prince Harry's bride-to-be has made a number of waves since getting involved with the royal family and it looks like she will continue to shake things up. With the holidays just around the corner, fans are likely wondering how Prince Harry and Meghan Markle will celebrate Christmas this year. As it turns out, they already have their holiday plans all mapped out — but a tradition will reportedly have to be broken.
Markle and Prince Harry are set to spend their Christmas with the Queen this year, but to do so will reportedly break protocol. Richard Fitzwilliams, an expert in royal affairs, explained to The Sun that attending the Windsors' annual three-day celebration is a privilege usually reserved for members of the royal family. As Markle and Prince Harry aren't set to wed until May of next year, Markle isn't technically family yet.
Part of the rule bending is because Markle's parents reside in the United States. The gesture is also intended to prevent any ill will between Markle and her future family members. However, the British outlets reporting the couple's holiday plans warn that the move may rub some other members of the royal family wrong, as exceptions were not made during other engagements. Fitzwilliams explained to the Daily Express that not even Kate Middleton was allowed to attend before marrying into the family:
It is expected Meghan will join Harry and the rest of the Royal Family for Christmas on the Queen's estate in Norfolk this year. In 2010 Kate was not invited to do so after her engagement to William nor was Mike Tindall after his to the Princess Royal's daughter Zara Phillips and only spouses and close family are usually invited. However Harry and Meghan will be living together at Nottingham Cottage at Kensington Palace and her family are in the United States.
In fact, Middleton was not even allowed to sit at the royal table prior to her wedding, according to The Sun. Fitzwilliams also told the publication, "The monarchy relies heavily on precedent and tradition but it also makes its own." Therefore, it is completely within its power to make changes. Middleton has not commented on Markle being welcomed at the Kensington Christmas celebration, but she has expressed her love for her soon-to-be sister-in-law in the past. So, it doesn't really seem like there will be any royal rift during the 2017 holiday season.
The royal family's holiday tradition is centered around Christmas Eve, when the family has tea with the Queen before the children finish decorating the Christmas tree. Then there is a black tie dinner and gift exchange, according to The Economic Times. The festivities continue on Christmas Day with a full English breakfast in the morning, church services at St. Mary Magdalene Church on the royal estate, and then Christmas lunch at Sandringham House, according to the The Economic Times.
It sounds like Prince Harry and Markle are too in love to even entertain the idea of separating. "Now they are engaged it was unthinkable that they would be apart for Christmas. The royal family have fully welcomed Meghan into the fold," a source close to the couple told the Daily Express.
And Markle won't completely miss out on seeing her family this year, though. As reported, she and Prince Harry will be with the Queen from Christmas Eve through Boxing Day before heading abroad to celebrate the New Year. At some point, they are set to meet up with Markle's mother, Doria Ragland, in California for a bit of family time, according to In Style.
Planning how to spend the holidays as a couple is a daunting task, especially when dividing time between two families. If the even split of this year's holidays is any indication of how Markle and Prince Harry will compromise as a couple, they really are a match made in royal heaven.
Check out Romper's new video series, Romper's Doula Diaries:
Watch full episodes of Romper's Doula Diaries on Facebook Watch.