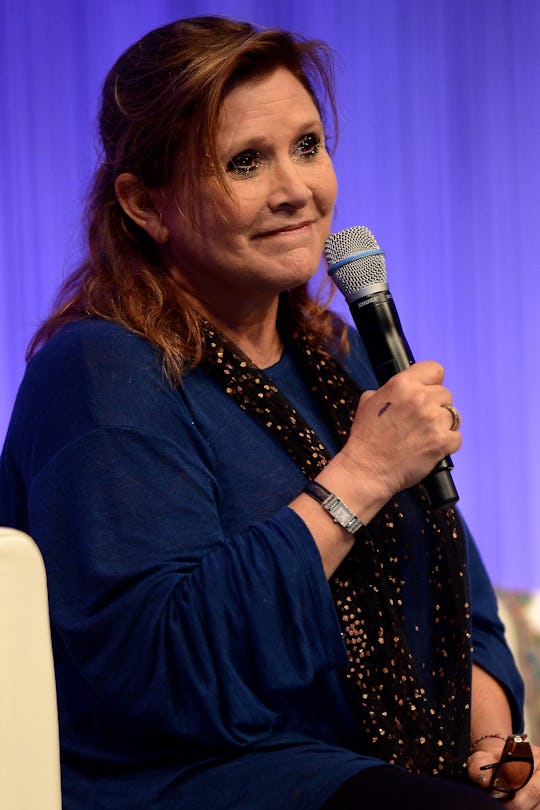 Sascha Steinbach/Getty Images Entertainment/Getty Images
How 'Star Wars' Will Handle Carrie Fisher's Death
After the sudden death of one of the most talented actors in the business, the world was left in shock and now Hollywood executives are at an impasse about how Star Wars will handle Carrie Fisher's absence as the directors put together the next installations of the franchise films. The iconic Star Wars actress — who tragically passed away on Dec. 27 after reportedly suffering from a massive heart attack on a flight from London to Los Angeles days earlier — was perhaps most famous for her role as Princess Leia in the beloved sci-fi series. Her untimely death may affect how the character will be portrayed in this year's upcoming Episode VIII and Episode IX, which is set to premiere in 2019.
According The Hollywood Reporter, Princess Leia is set to appear in the next two Star Wars films and there at least two key scenes planned. An insider told The Hollywood Reporter that in the first scene, Fisher's character was going to have a reunion with Luke Skywalker. In the other, Princess Leia was reportedly set to be involved in a confrontation with Kylo Ren, "her son who killed Harrison Ford's Han Solo in 2015's The Force Awakens," according to the entertainment news site.
It's not clear at the moment how these scenes will fit (or if they will be re-shot altogether) into each film as Episode VIII — which will premiere on Dec. 15, 2017 — has already finished shooting, but 2019's film has not started production yet, nor has a date been set.
But with technology these days — such as the use of CGI effects — filmmakers have options to re-work those key Princess Leia scenes and possibly give fans a chance to say goodbye to the beloved character. Fisher's appearance may only appear in glimpses in the next few films, but there will plenty of way for Princess Leia's character to finish her story in the Star Wars series.
Saying goodbye isn't easy though, and Fisher's untimely death has prompted fans to come up with ways to remember her iconic role. One gesture has been a petition started to make the Star Wars princess an official Disney princess. As of Thursday night, the petition had gotten more than 48,000 signatures. Cody Christensen, who started the petition, wrote on the Change.org page:
After the tragic los[s] of Carrie Fisher, we feel that it is only fitting for Disney to do away with the rule that an official Disney princess must be animated and make Leia a full-fledged princess. This would be a wonderful way to remember Carrie and a welcoming to one of Disney's new properties that is beloved by millions.
Given the film franchise's decades of success and long relationship with Fisher, it's a safe guess that the Star Wars producers will know the best way to handle the iconic actress' absence, even though it will be difficult for everyone involved.