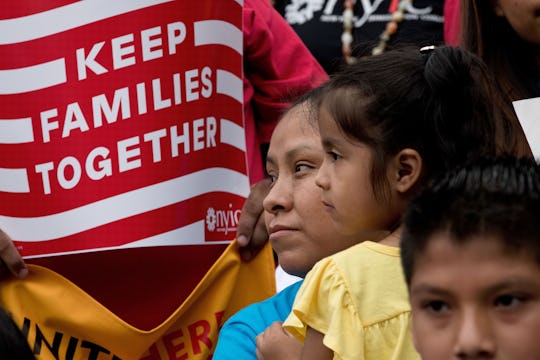 Drew Angerer/Getty Images News/Getty Images
What Will The ACLU's "Rapid Response" Team Do?
Immigration has been a hot topic lately — in both headlines and executive orders — but the American Civil Liberties Union wants to ensure that any individuals facing deportation have fair access to legal counsel. On Sunday, the non-profit civil liberties group told ABC that it was planning on creating a rapid response team in order to fight a potential increase in deportations across the country. The ACLU's rapid response team will work with immigrants to make sure they're receiving adequate legal counsel if they face deportation.
The ACLU's announcement came soon after President Trump's recent executive order on immigration, which removed several past roadblocks to deportation. Rather than simply targeting recent arrivals, those who have overstayed their visas repeatedly, or those who have committed crimes, the new order essentially allows immigration agents to detain anyone who has crossed into the country illegally. Any immigrants using government services, such as those using food stamps or receiving free school lunches, can be taken into custody, and according to The Los Angeles Times, up to 8 million people in the United States could now be subject to deportation under the new order.
Since Trump signed the executive order in January, immigration raids have been carried out in at least six states, according to The Washington Post, with officers raiding businesses and homes in New York, North Carolina, South Carolina, California, Chicago, and Atlanta. While raids have been a routine part of immigration enforcement for years, immigration rights groups have claimed that the recent raids were more intense than they were in previous years.
The American Civil Liberties Union, however, plans to keep up with any potential increases in deportations by creating a rapid response team. Lee Gelernt, an ACLU senior attorney, told ABC on Sunday:
This administration is just getting started and we're anticipating much worse. ... [Trump's] rhetoric is already scaring a lot of people in immigrant communities.
According to ABC, the ACLU's rapid response team would be a joint effort uniting the ACLU, local community groups, and private law firms in an attempt to provide anyone facing deportation with adequate legal counsel.
U.S. Immigration and Customs Enforcement officials have claimed this year's raids were "nothing out of the ordinary," and L.A. Field Office Director David Marin told ABC on Sunday that the ongoing raids were unrelated to Trump's recent executive order. According to The Washington Post, however, immigration officials confirmed that, due to Trump's order, they were able to investigate more people in 2017 than they would have been able to last year.
With an increasing amount of deportation stories hitting headlines and over 8 million people in the country subject to deportation under Trump's order, it looks like the ACLU's upcoming rapid response team might have its work already cut out.