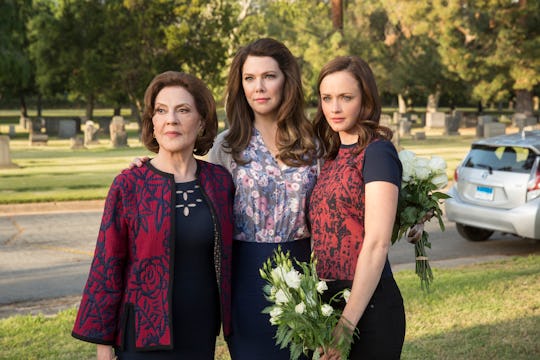 Robert Voets/Netflix
How Will The 'Gilmore Girls' Revival Honor Richard? Edward Herrmann Is Still Present
When the Gilmore Girls revival was first announced, everyone wanted to know which actors exactly would be making their return to Stars Hollow. It turns out that Amy Sherman-Palladino was able to get most of them to return, but it was clear that one beloved character wouldn't be coming back. So how will the Gilmore Girls revival honor Richard? Edward Herrmann sadly passed in 2014, but Richard is still very much present in spirit during the show's return.
In early interviews, Sherman-Palladino addressed how the series would handle the loss of Herrmann, who was a much loved person, actor, and character in the Gilmore world. "It's safe to say that the death of Richard Gilmore, the death of Ed Herrmann, looms large over everything," she told Entertainment Weekly. "Dealing with the death of Richard is going to impact all of them, because when somebody close to you dies your whole life comes into a weird focus for a minute. Like, what direction am I walking?" The article described how Herrmann and Lauren Graham would often get dinners together, while Kelly Bishop, who plays Emily, used to do crossword puzzles with him in their trailers, and the two would occasionally go across the street for a martini together. It's clear that this death will have a huge impact on all of them.
From the released trailer alone, fans see that Richard's death will play a big part in the series. Emily has commissioned a wall-sized portrait of him to hang in the living room (and this is not a small wall), and she is also seen cleaning out her entire house (in jeans!), wondering where exactly she goes from here. All her adult life she's been defined by her position as wife and mother, running the household and maintaining the couple's social position. She was married for nearly 50 years. Richard's death cannot help but have a profound affect on her.
Lorelai and Rory are also seen at the cemetery at Richard's funeral. While his death will understandably impact Emily the most, it will still permanently change the lives of the other two major women in his life. As Sherman-Palladino noted, with every death in the family, the immediate reaction is to refocus one's life. To wonder what, exactly, am I doing? Where am I going? Lorelai and Rory will both be doing some soul-searching in the revival, perhaps spurred by a renewed sense of purpose after losing the much-loved Richard.
While I have no doubt that the series will honor Richard beautifully, I can't help but be saddened by the knowledge that his character won't be there. The proud, witty, and ultimately tender-hearted Richard was a beautifully unforgettable character and he will be deeply missed.