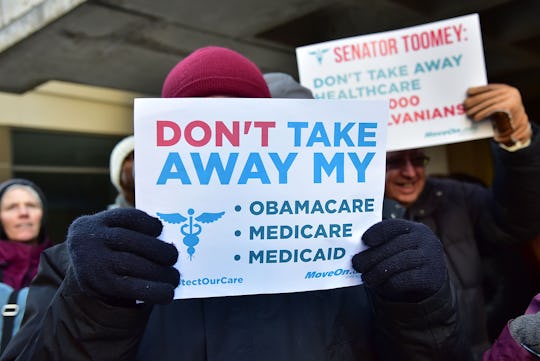 Lisa Lake/Getty Images Entertainment/Getty Images
The ACA Is Crucial To Kids With Chronic Conditions
With an incoming administration keen on repealing the Affordable Care Act, many insured Americans are hitting the panic button — including the parents of kids with chronic conditions. According to the Congressional Budget Office, Republicans' proposal for a partial repeal of Obamacare could leave up to 18 million uninsured in the first year after the proposal's enactment. So what does that mean for those with ongoing illness? The Obamacare repeal could affect kids with chronic conditions' coverage, which would be a huge financial and emotional strain for their parents.
Until President-elect Donald Trump's team releases its plans for an Obamacare replacement, it's hard to say with certainty what will happen — but one of Obamacare's most popular traits is that it keeps insurers from discriminating against those with pre-existing conditions. According to the U.S. Department of Human and Health Services, ever since the Affordable Care Act went into effect in 2014, health insurers have been barred from denying people insurance or charging them more because they or their children have pre-existing health conditions. For parents of children with ongoing conditions, that's a massive relief.
According to TIME, the partial repeal currently being proposed wouldn't affect this provision — at least for now. The trouble would come if and when Republicans decided to pass an Obamacare replacement plan that didn't include this protection.
For parents whose children suffer from chronic conditions, that prospect is terrifying. Mother Julie Ross told The Los Angeles Times that her without costly, proactive care — currently covered by Obamacare — her 4-year-old daughter wouldn't survive her congenital heart condition. "I hear senators say, without health insurance you can just go to the ER and get care," she told The Los Angeles Times. "For my daughter, that would be too late. She'll die without these protections."
Even with the provision in place to protect those with pre-existing conditions, up to 4.4 million children and 7.6 million parents could lose their coverage thanks to the partial ACA repeal alone, according to a report by the Urban Institute's Health Policy Center. States could reduce their minimum standards for Medicaid eligibility starting in 2017, according to Forbes, leaving previously-insured families out in the cold. The provision would keep insurers from denying coverage to those with pre-existing conditions or charging them more, but those families would still have to find a new — and likely more costly — health insurance.
As for Republicans' oft-cited plan to replace the ACA with tax credits for insurance in the future? Ross told The Los Angeles Times that a tax credit wouldn't cover her daughter's needs, and that she would quickly exceed limits on benefits. "I would have to get a divorce from my husband and move into Section 8 housing and go onto Medicaid and welfare," Ross said. "We are living in total fear."
Hopefully for the parents out there who are raising children with chronic conditions, politicians are hearing Ross's message. If Republicans decide to move forward with the repeal of Obamacare, these families need an alternative that will continue to keep their children healthy and safe without launching them into debt.