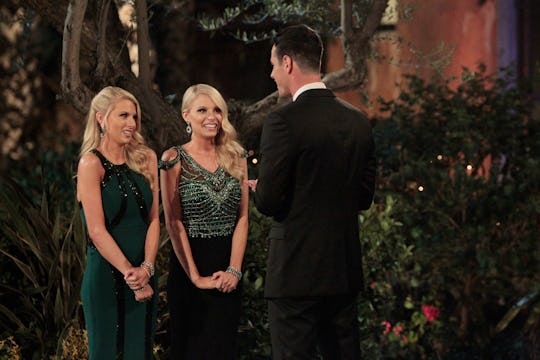 How Will The Twins Work On 'The Bachelor'? It's Unclear If All Of Their Dates Will Be Separate
Most sisters would freak out if they found out that they liked the same guy. And that freak out would only get worse if those sisters were twins — at least in most cases. If, additionally, those sisters appeared on a reality TV show, then it sounds like we've entered truly dramatic territory. But two twins will be doing exactly that on one of the most popular dating shows ever. When The Bachelor season 20 aired Monday, that's exactly what Emily and Haley Ferguson, 23, were doing. But, you might be wondering, how will the twins work on The Bachelor?
I mean, this can spell all kinds of drama; amirite?
According to host Chris Harrison, both Emily and Haley watched Kaitlyn's season and swooned over Ben. "This was the first time they have fallen for the same guy, as they usually have differing tastes," Harrison explained to Yahoo! TV in an interview on Dec. 7.
So, the twins, 23, who work together as cocktail waitresses at Marquee in the Cosmopolitan hotel in Las Vegas, applied for the show. Both Emily and Haley made the cut. And, according to CelebrityLaundry.com, "This is actually not their first stint on reality television – they tried out for the Dallas Cowboys cheerleading squad and were featured on the CMT reality show about the Cowboys cheerleaders."
So, what can we expect in terms of the twins canoodling with Bachelor Ben?
Separate Dates For Each Twin (Supposedly!)
Harrison already confirmed that Ben will date the twins separately. But there are also rumors of a group date involving both Emily and Haley. So, which is it? Guess, we'll have to watch for an OMG moment like this one.
Don't Expect Double The Drama
This is the first time the show has ever had contestants who are twins appear. Of the decision to cast Emily and Haley, Harrison told Yahoo! TV:
It can be problematic to date sisters, as you could imagine... it has potential to go south quickly.
Hell hath no fury as a sister scorned (and I'm talking from experience here).
But, Harrison said, it was the loving relationship between Emily and Haley that made producers go ahead and cast them as the first ever twin contestants.
Expect The Sisters To Support Each Other (Aw!)
Though Harrison wouldn't reveal anything about the order in which the roses get distributed, (eek! Imagine a dude choosing your identical twin sister over you!) the host did say that the twins remain close and loving throughout the show. Yes! I'm so hyped that a man doesn't come between the Ferguson family. Harrison told Yahoo!:
Luckily, they are very close and very loving and did not come on to play games.
Don't Expect Matching Outfits
In an attempt to be seen as individual love interests rather than a unit, the twins opted not to don identical duds. Harrison told fans not to expect Emily and Haley to match outfits, according to Yahoo!:
Thankfully, they did not do the grade-school twin thing and dress in matching outfits.
I hope Emily and Haley at least color coordinate. Because even if neither of them go home winning, they're already totally twinning.
Images: ABC/Getty Images; Giphy (4)