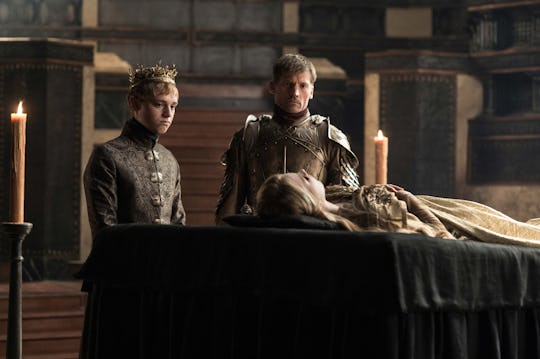 Helen Sloan/HBO
How Will Tommen Die On 'Game Of Thrones'? It Might Be Cersei's Fault
Early in Season 5, we got a flashback to Cersei's childhood, in which the witch, Maggy the Frog, prophesied to Cersei that she would have three children, and that she would see all three of them die. The prophecy has haunted her ever since, and with her first two, Joffrey and Myrcella, already buried, she's becoming ever more frantic in her attempts to protect Tommen, her youngest. After about two years as king, Tommen will almost certainly be dust soon, the only question remains how King Tommen will die on Game of Thrones. As always, the internet has theories, and most of them involve Cersei.
One theory of Tommen's imminent demise that has been gaining a lot of traction is that it will be at the hands of The Mountain, who's single purpose in (resurrected) life is protect Cersei from all of her enemies, no exceptions. The theory, first suggested by Reddit user Matt_Something, posits that Tommen will learn that it was Cersei who put Margaery in prison and lash out. Tommen loves both his queen and his mother, but he loves Margaery perhaps just a little bit more. Should Tommen discover what his mother did and threaten her in any way, The Mountain will react on instinct. He is sworn to protect Cersei against everyone, including her son, and The Mountain may smash poor sweet Tommen's head against the wall without hesitation should he act aggressively toward her. Oh, the irony.
Another theory has to do with Cersei's supposed obsession with fire, specifically wildfire. You may remember that Tyrion used wildfire to defeat Stannis Baratheon at Blackwater Bay. Wildfire is a bright green explosive substance that burns right through everything it touches, including water, and can only be put out with large quantities of sand. According to this theory from Movie Pilot, Cersei — much like the Targaryans before her — will attempt to defeat her enemies by burning them all to the ground. In so doing, she will indeed burn her enemies, but, unable to control the wildfire, she will also burn the castle, and everyone in it, including Tommen.
It makes a certain amount of poetic sense for Cersei to be responsible, even indirectly, for Tommen's death. She's known to make rash decisions out of anger and fear, for example handing over the city to the High Sparrow. It would be highly ironic, yet fitting, that in her blind eagerness to protect herself and her son, she causes the death of her last, precious son. It's just the sort of cruel inevitability that Game of Thrones is so fond of serving up.