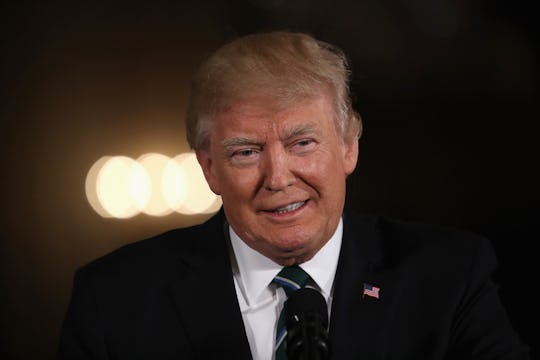 Justin Sullivan/Getty Images News/Getty Images
Trump's Budget Will Hurt Parents Who Need Affordable Housing
President Donald Trump released a $1.1 trillion budget outline for the first time in his presidency on Thursday. This budget was the first chance for citizens to really get a look at what programs and departments the Trump administration value and will put more money into and what departments and programs will face serious cuts to funding. One of these departments facing significant budget cuts is the Department of Housing and Urban Development which has some people rightfully worrying. A proposed budget cut to the department and a lack of funding to certain programs has some wondering how will Trump's budget hurt parents who need affordable housing?
Unfortunately, it does not look promising for those who rely on the many amazing programs made available through the Department of Housing and Urban Development. This is because Trump's new budget, according to CNN, prioritizes defense spending over diplomacy, foreign aid, and non-defense spending. To put this into numbers, the HUD funds will be cut by 13.2 percent or $6.2 billion dollars. These cuts, according to CNN, are due in part to Trump "wanting to get rid of programs that don't work." Due to Trump's budget cuts, he will be cutting the Community Development Block Grant program, which according to CNN, funds anti-poverty programs, affordable housing, and Meals on Wheels. People rely on this program for not only services but their livelihoods. According to CNBC, more than 9 million Americans benefitted from public services under the program and 17,545 jobs were created from the program. This cut, in turn, will "remake how the department works with people," according to CNN. This is devastating for parents who rely on these grants and the HUD.
Trump's proposed budget, according to the Washington Post, will also make cuts to the HOME Investments Partnership Program, the Choice Neighborhoods program, and the Self-help Homeownership Opportunity program. According to the Washington Post, all of these programs help "redevelop low-income neighborhoods and encourage homeownership." These programs also establish community development projects and building maintenance — and who knows what will happen without them. By making these drastic cuts to the HUD, the Trump administration is emphasizing that state and local governments should be responsible for these programs — but, according to the Washington Post, this will put a strain on states and could scale back the amount of housing vouchers handed out. According to The Hill, more than 75 percent of the HUD's budget goes towards helping families pay their rent. A major cut to funding to the HUD will have a negative impact on families and working class households just trying to make ends meet and have a place to live.
These budget cuts don't come as great news — especially after Trump promised on the campaign trail that he would "rebuild inner cities." Trump's proposed budget cuts could possibly effect parents and families who need affordable housing by cutting vital programs for urban communities and significantly reducing funding to one major department.