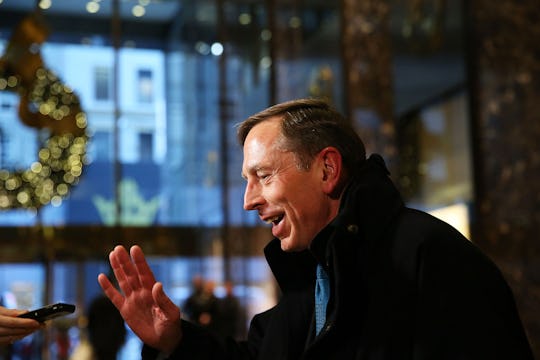 Spencer Platt/Getty Images News/Getty Images
How Would David Petraeus' Classified Information Scandal Affect Him As Secretary Of State?
President-elect Donald Trump has been spending the past couple weeks weighing names and potential Cabinet picks in his administration for the next four years. Some have already been confirmed to be a part of Trump's team while rumors swirl around other candidates who are set to fill the dozen or so vacancies left in Trump's Cabinet. One of those positions is the very important job of secretary of state and one of the names reportedly being considered as a candidate for the job is retired Lt. Gen. David Petraeus. But Petraeus has a notorious classified information mishandling scandal in his past. If he were the lucky person chosen to be Trump's secretary of state, how would Petraeus' classified information scandal affect him as the secretary of state?
First, a quick refresher. In April 2015, according to CNN, the former military leader and CIA chief was sentenced to serve two years probation and was forced to pay a $100,000 fine "for sharing classified information with his biographer and lover, Paula Broadwell." Petraeus had taken a plea agreement, according to USA Today, and in accordance with that agreement, reportedly admitted to "spilling a massive amount of information to Broadwell and lying to FBI agents about it." It has not yet been two years since Petraeus' sentencing, which means he still has to follow the terms of his probation agreement, according to The Hill. The terms of Petraeus' probation could possibly get in the way of the demands that come from being the secretary of state.
Representatives at the KKR Global Institute, where Petraeus serves as chairman, did not respond to Romper's request for comment.
If chosen as secretary of state, according to The Hill, Petraeus will have three days to notify his probation officer, as it is outlined in his court judgement. The court judgement also states that Petraeus must get permission to travel from his probation officer. If Petraeus were to become secretary of state (an incredibly travel heavy job) he would have to get approval every time he left western North Carolina. Petraeus would have to continue with the current terms of his probation, which could involve random visits or searches from his probation officer, even if he were given the job.
It is unclear whether or to what degree Petraeus' past scandal would get in the way of his duties as secretary of state. Petraeus' past scandal does not necessarily discount his education and experience, of which he has a lot. Petraeus is a retired military commander with experience in Iraq and Afghanistan and also has a P.h.D. in international relations from Princeton University, according to The New York Times. As CNN reported, Petraeus' wealth of knowledge in security and military continues, to this day, to be "sought by Capitol Hill and the White House" — knowledge that would be useful to Trump. According to The Atlantic "Donald Trump needs Petraeus" and his knowledge of war and politics.
If he were to be chosen as secretary of state, there is a possibility Petraeus could put the scandal behind him — once he is president, Trump will have the ability to pardon people. If Trump chose to, he could pardon Petraeus for his crime. and if that happens, Petraeus' scandal, as well as his probation terms would no longer have an affect on him. However, according to The Hill, it is "unlikely" that Trump will "take such an action."
For now, the rumors of Petraeus being secretary of state are simply rumors. If he is tapped to be secretary of state, how exactly his classified information scandal could possibly affect him and the job will become much clearer.