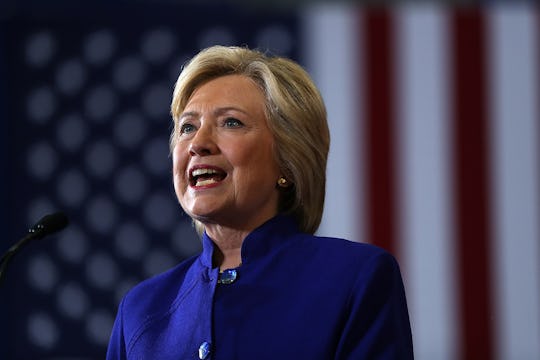 Justin Sullivan/Getty Images News/Getty Images
How Would Hillary Clinton Handle ISIS? She Has A Detailed Plan
On Monday, presidential candidates Donald Trump and Hillary Clinton will face off for the first time on the same stage in a 90-minute debate. The topics will include "achieving prosperity," "securing America," and "America's direction." Thanks to recent scares, like the Manhattan bombing, and Trump's incessant fear-mongering involving Syrian refugees and Muslims, it's likely that ISIS will be discussed in the second topic. Trump hasn't said much about his approach to fight ISIS, but Clinton has said often she has a detailed plan, according to the New York Times. But what exactly is her plan?
There are military, diplomatic, and humanitarian components to Clinton's plan. Militarily, it's somewhat aggressive and involves a hands-on approach to squashing the ISIS threat, as opposed to the "out of sight, out of mind" views that some political candidates have touted.
In terms of the diplomatic component, Clinton makes it clear that her ISIS strategy depends in large part on our European allies' willingness to lead and support. On the humanitarian front, Clinton wants to expand support beyond what the Obama administration has done to help European allies resolve the refugee crisis.
Military
According to the Wall Street Journal, Clinton has stated that she wants to expand air strikes in Iraq and Syria. She also wants to step up support for local troops on the ground in those areas. These local troops might include Sunni Muslims and Kurdish forces, as Clinton mentioned these forces should play a bigger role in fighting ISIS.
Diplomatic
Clinton wants to strengthen ties with European allies, not only because of their proximity to the threat but also because of their financial and political strength, according to her campaign website:
We need European intelligence and diplomacy, European banks fighting terrorist financing, European aircraft flying missions in the Middle East, and European special forces helping train and equip local forces fighting ISIS.
She has also said that she would work to stop ISIS's recruitment and propaganda on the internet. Clinton called ISIS the "first internet-fueled terrorist group."
Humanitarian
One of Clinton's more controversial points in her foreign relations policy was made in regards to the Syrian refugee crisis. She wants to increase the current limit on Syrian refugees in the United States, which is 10,000, to 65,000, according to CBS News:
We have always welcomed immigrants and refugees. We have made people feel that if they did their part, they sent their kids to school, they worked hard, there would be a place for them in America.
That's much more than Trump has said on his plan. He has said he won't provide a detailed plan to fight ISIS because it would "take away the element of surprise." But in a December 2015 primary debate, he did say he would "bomb the shit" out of the group's oil operations. Hopefully, we'll get to learn more about Trump's plan on Monday.