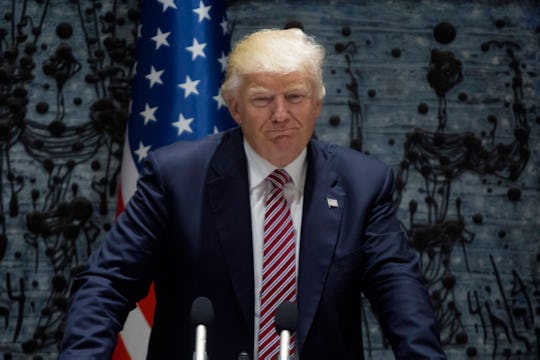 Lior Mizrahi/Getty Images News/Getty Images
Trump's Budget Could Severely Affect Kids' Education
On Tuesday, the White House revealed President Donald Trump's proposed budget for 2018, entitled "A New Foundation For American Greatness." That "greatness" apparently requires a whole bunch of cuts to social programs, and a big reduction in education spending. How would Trump's budget affect education? Millions of kids could have important programs taken away from them, particularly children from lower-income families.
The budget, which would have to pass through Congress in order to take effect, proposes a 13.5 percent budget decrease for the Department of Education, from $68.2 billion in 2017 to $59 billion proposed for 2018. That's a huge change in funding, meaning that many current initiatives would be headed for the chopping block. One of the biggest programs to get the boot from the proposed budget is a nationwide after-school program, 21st Century Community Learning Centers, which serves nearly 2 million students across the country. The official line from the administration documents is that "performance data demonstrates that the program is not achieving its goals."
But according to parents who actually rely on the program — which gives many lower-income children the opportunity for homework help, healthy snacks, and fun activities like robotics — the after-school care facing budget cuts is a "godsend" which has plenty of benefits in areas like achievement and attendance. The White House did not immediately respond to Romper's request for comment.
In addition to cuts in after-school care, the proposed budget would make big changes in student loans. In addition to eliminating the federal government's subsidization of student loan interest (which would likely raise the cost of college for low-income students), it would end the federal government's public service student loan forgiveness program, which encourages students to work as public school teachers, social workers, and more by forgiving their loans after 10 years of payments. As an article in CNN Money pointed out, hundreds of thousands of people have planned their futures around the loan forgiveness program, turning down better-paying jobs to stay in it. And it may be harder to attract bright, high-achieving educators to the struggling public schools where they can do the most good without this kind of incentive.
Trump's budget would also encourage "school choice" (which often ends up redistributing funds from poorer schools and neighborhoods to wealthier ones), cut a $190 million literacy program and a teacher training program, and, due to proposed cuts in Medicaid, take away funds often used to help special needs and poor students.
Organizations like the National Association of School Psychologists have come out against the budget plan, with NASP saying, in a statement, that it "jeopardizes the well-being and education of millions of children."
The one bit of positive news? The budget doesn't seem likely to pass. Even some conservatives in Congress are balking at its cuts, meaning that these important programs may stay and continue to help millions of children, at least for the time being.