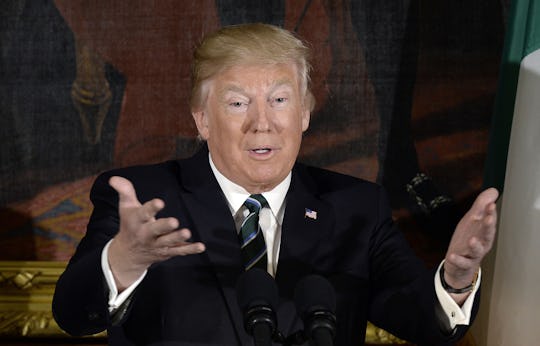 Pool/Getty Images News/Getty Images
How Trump's Budget Could Hurt Pregnant Women
Opting for a slash-and-burn approach, President Donald Trump's federal budget aims to eliminate a lot of organizations and programs that are integral for many Americans' day to day existences. Certain groups stand to be more intensely affected by the proposal, with women taking a heavy hit. So how would Trump's budget affect pregnant women? Trump's "America First: A Budget Blueprint to Make America Great Again," sheds light on what health initiatives Trump values, and it appears that the health needs of pregnant women must take a back seat.
A notable change in the blueprint? A reduction in funds allocated to a major organization responsible for medical research. Shrinking its budget by $5.8 billion, Trump's proposed 20 percent cut to the National Institute of Health will have far-reaching effects. In an email statement, Dr. Anne Davis, Consulting Medical Director for Physicians for Reproductive Health, noted,
At a time when the future of health care in our country is at risk, the Trump administration's proposed budget cuts key agencies responsible for improving our nation's health. The National Institutes of Health is the backbone of the best medical research in the United States, and cutting their funding would have disastrous immediate and long-term effects on public health. President Trump's proposed budget would disrupt medical progress that benefits all Americans.
Another round of proposed cuts would affect the Women, Infants, and Children (WIC) program. In comparison to last year, WIC will suffer $150 million in cuts from efforts that "[help] states meet the nutritional and health needs of low-income pregnant and postpartum women, infants, and children," should Trump's budget be passed in its entirety (it likely won't be, but it's troubling that this was proposed in the first place). This cut marks the only explicit mention of women's health in the blueprint, putting the overall federal allocation of funds at $6.2 billion.
Pregnant women will be happy to know, though, of a small victory, as Trump's plan to fight Zika has been made a priority. Whereas details are not yet fleshed out, the budget "creates a new Federal Emergency Response Fund to rapidly respond to public health outbreaks, such as Zika Virus Disease," it shares. Still, it's unclear where exactly this money will come from.
The budget's prioritizing defense spending, the Department of Homeland Security, and the Department of Veterans Affairs comes at a cost. Many government agencies will likely suffer or be completely obliterated by these changes. Still, nothing's set in stone; It's up to Congress to pass the budget, amend it, or reject it completely.
Given the near absence of women's health in the budget's current form, it appears that women's needs have been an afterthought; Representatives working to protect the needs of the women they represent would be wise to reassess the blueprint as-is.