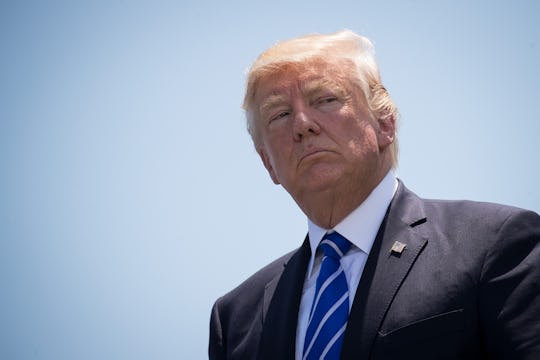 Drew Angerer/Getty Images News/Getty Images
How Trump's Education Budget Will Affect Public Schools
The money that goes into education is absolutely important to every student's success. Teachers, schools, and administrators put so much effort and time into making sure every child can achieve that success — and the little money in their budgets allows them to do so. So it makes sense, then, that helping students meet their goals becomes much harder when funding is cut from education. President Donald Trump's education budget does just that, and could put academic achievement in jeopardy, which is why it is important to know how Trump's education budget would affect public schools specifically, so you know how to act.
The Washington Post recently got its hands on a reported draft of the education budget, set to be released this week. Perhaps the biggest change is the $10.6 billion that will be cut from federal education initiatives, putting less of an emphasis on programs and initiatives and more of an emphasis on school choice and charter schools. This major budget cut will have the biggest impact on public schools.
The budget will reportedly cut at least 22 programs from K-12 public schools such as Arts in Education and Special Olympics Education, as well as $400 million in student support and academic programs that were combined in the Title IV fund. And it gets worse — according to The Post, Trump's budget proposes a $1.2 billion cut to after-school programs that serve 1.6 million children, most of whom are low income. The budget will also cut $2.1 billion from teacher training and class size reduction, placing additional challenges on public school teachers.
Students in public schools who rely on services for support will also be in trouble. The Post reported that the Trump administration will not dedicate any money to funding for student support and academic enrichment that helps pay for things like mental health services and anti-bullying initiatives. And Trump's education budget will not only have an impact on K-12 public schools but those attending public colleges as well, as it eliminates loan forgiveness, cuts work study programs in half, and slashes funding for subsidized loans.
Luckily, according to Salon, this budget is likely to meet resistance from politicians worried about the reactions of their constituents; In recent days, many legislators have drawn the ire of the public over their decisions on the Hill, and it's likely this debate will be met with similar resistance (perhaps encouraging them not to jeopardize future votes by complying entirely with the president's proposed budget). But for the time being, it's all still definitely concerning.