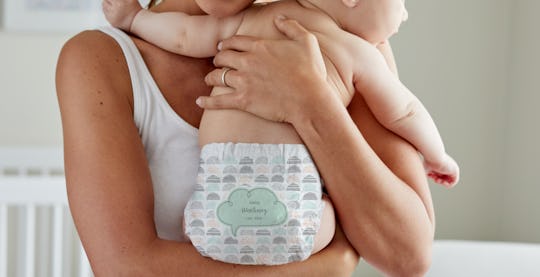 Courtesy of Huggies
Personalized Diapers: So Extra Or So Cute? ...Definitely Both (& The Best Baby Gift)
Everything from your playlists to your wardrobe can now be endlessly personalized, so why not apply this idea to your kid's diaper stash, too? The Huggies Made By You personalized diaper collection is the brand's first-ever personalized diaper, and it's already generating some hype among fashion-forward parents. Basically, your newborn can look stylish and on-trend from day one.
The five limited edition collections of Huggies Made By You are inspired by current fashion and design trends. With patterns such as Bright World, Pattern Party, Sweet Safari, Little Hero, and Mediterranean Mama, there's a design to match most any taste or event. Seriously, the diapers adorned with bright bicycle prints or cool doodle-inspired designs would look right at home on any influencer's Instagram. They are pretty cute.
But the designs are just the beginning. After choosing from one of the many cool patterns, you can then add a name or monogram to the diaper itself. (Hey, nothing says fancy quite like a monogrammed diaper. Chances are, you have at least one relative who will totally flip out for that option.) Plus, you can then choose a personalized message to go inside the pretty gift box. It's a lovely gift for any expecting mom. And if that expecting mama is you, it's a nice gift you can get for yourself (and the new baby, of course).
Each order, available exclusively online at HuggiesMadeByYou.com, arrives with 28 premium diapers in your chosen design. At this time, the diapers are available in a size 1 (8 to 14 pounds), and delivery takes 1 to 3 weeks to arrive. Price point? $75 for a pack, which likely puts these into the gifting category. Just make sure you give yourself a little lead time for their arrival.
These designable diapers have already generated quite some buzz among design professionals. In fact, interior designers Nate Berkus and Jeremiah Brent celebrated the arrival of their new baby, Oskar, with the help of these cool diapers. At an event curated by celebrity party planner Nicole Marie, the pair celebrated the arrival of their newest kid, and at the same time helped launch the personalized diaper collection.
Known for their work on everything from The Oprah Winfrey Show to Nate & Jeremiah By Design on the TLC network, these designers have some serious industry cred. Both Berkus and Brent have a real talent for everything from interior decor to fashion.
The proud new parents even created some diapers of their own for their newborn. Hey, if the service is good enough for professional designers, then it's pretty great, right? These guys know good style when they see it.
But even if you aren't a professional designer or fashion person, there are plenty of reasons or occasions to use these diapers. If you're attending a baby shower soon, then some of these personalized diapers are sure to be a hit. Plus, diapers are the one item new parents can never overstock. This gift is personal, pretty, and very much practical.
Or, if you or a friend is going to have a newborn photoshoot, then these diapers would make a great addition to the wardrobe. I mean, you're going to need some diapers anyway, so they might as well be cute. Even outside of formal photoshoots or baby showers, these diapers could make the day-to-day tasks of caring for a newborn just a little more fun.
Granted, the most practical of new parents might see these personalized diapers as a little extra. But for the most part, no parent of a newborn is going to refuse any extra diapers. These special Huggies are still super useful, and a simply adorable way to keep your baby comfy and fresh all day.