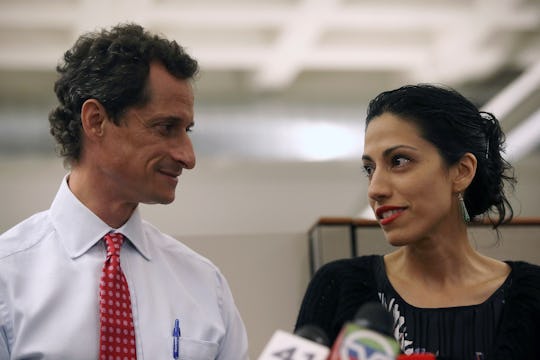 John Moore/Getty Images News/Getty Images
Huma Abedin Reportedly Files For Divorce
On the same day as former Congressman Anthony Weiner pled guilty to a federal obscenity charge, his wife and former Clinton aide Huma Abedin reportedly filed for divorce, according to CBS. On Friday morning, Weiner pled guilty to charges in a sexting investigation, admitting that he sent obscene material to a minor. As part of his plea agreement, Weiner will have to register as a sex offender.
Romper reached out to both Weiner and Abedin's representatives, but did not hear back immediately. According to Vanity Fair, Abedin and Weiner first separated in August 2016, soon after reports of Weiner's involvement in a sexting scandal with another woman emerged. In a statement Abedin released about their separation at the time, she mentioned their 5-year-old son and requested privacy, writing:
After long and painful consideration and work on my marriage, I have made the decision to separate from my husband. Anthony and I remain devoted to doing what is best for our son, who is the light of our life. During this difficult time, I ask for respect for our privacy.
On Friday, prosecutors asked that Weiner spend between 21 and 27 months behind bars, according to NBC, although he will not be sentenced until early September. Although Weiner wore his wedding ring in court, Abedin did not attend his court appearance.
"I have a sickness, but I do not have an excuse," Weiner told the judge on Friday, according to NBC. He continued:
Through approximately March 2016, I engaged in obscene communications with this teenager, including sharing explicit images and encouraging her to engage in sexually explicit conduct, just as I had done and continued to do with adult women. I knew this was as morally wrong as it was unlawful.
According to the Hill, Abedin requested that the court seal the case when she filed for divorce, which would keep the case private. Abedin and Weiner first met in 2001, began dating in 2008, and got married in 2010, according to The Washington Post. Weiner's first sexting scandal hit in 2011 and led to his resignation from Congress. In 2013, he admitted that the sexting didn't stop after he resigned, but Abedin stood by his side.
Speaking to Vogue last year, Abedin said that she relied on her friends and colleagues to get through Weiner's past sexting scandals. "I tried to block out all the noise and move on with my life," she said. "Our primary concern was the well-being of our son, and ensuring he had everything he needed to feel loved and cared for and to thrive."
It'll be a while before Weiner is sentenced, but hopefully Abedin and her son will be given the time and space they need as events continue to unfold.