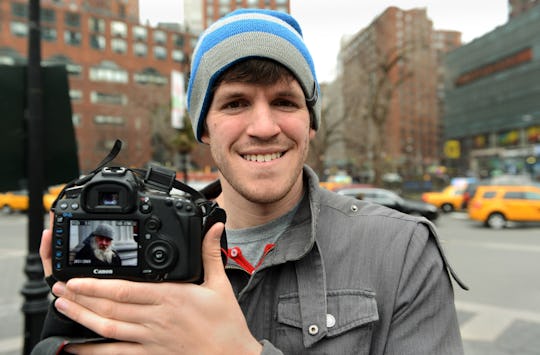 STAN HONDA/AFP/Getty Images
Humans Of New York Will Tell The Stories Of Kids Fighting Cancer In A Heartbreaking Series
Humans of New York and its sole voice, photographer Brandon Stanton, has emerged as an influential quiet conscience that has the rare ability to cut through the clamor and clutter of social media. Over the next two weeks, the site will feature a new series where Humans of New York shows kids fighting cancer. Stanton will feature his portraits of kids from the Pediatrics Department of Memorial Sloan Kettering Cancer Center to tell what he calls "war stories" of the children and their stoic parents who are fighting cancer every day. The idea is to raise money to fill the doctors, hospitals, and families' war chests to finally put cancer away once and for all.
"Obviously these are not going to be easy stories to read," Stanton wrote on the caption of his first family portrait to kick off the two-week series. "These are war stories. The treatment of cancer can be nearly as violent as the condition itself, and even the doctors will frame their efforts in terms of warfare."
Humans of New York has taken on powerful and political issues before, from the Syrian refugee crisis to Donald Trump. There's also plenty of lighter fare, from celebs around the Big Apple to my personal favorite department, "microfashion" featuring the most well-dressed kiddos in NYC. But Stanton's latest project to raise awareness and money to fight what he calls an "injustice of nature" is on a whole new level.
"But as with every war, there are heroes," Stanton said. "You'll meet the amazing doctors, nurses, and researchers who have committed their lives to this fight. You'll meet the moms and dads who refuse to crumble while living their greatest fear. And most importantly, you'll meet the reason that everyone is fighting, and the greatest warriors of all — the kids."
The comments on this first portrait tell people just how important it is for so many parents of kids who are, or who have, battled cancer to have their stories told. Many parents have shared the images of their own babies fighting all kinds of different cancers. Other parents commented about the children they've lost.
And yes, these are difficult stories to read and see, but it's so important for us to remember the kids and the parents who are living and breathing this war every day. The parents are the ones who hold little hands and pray for miracles. They spend endless hours sitting in hospital rooms waiting for lab results, medications, and the next round of tests. Injustice really is the only word for it. War really is the only appropriate metaphor.
So make sure over the next two weeks to stop by Humans of New York and take that unflinching look in the faces of families who are suffering through the battle of their lives. Then do what you can to help. I can't think of anyone better suited to tell their stories with all the love and rage they deserve than Stanton, because these families seem to have gotten more than a storyteller on their side. Now they've got a fellow soldier in the foxhole. And they're asking the rest of us to join them in the fight.