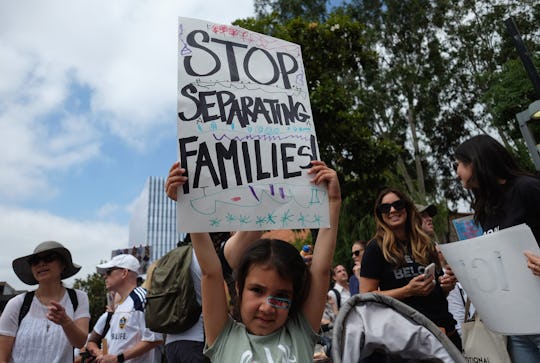 Sarah Morris/Getty Images Entertainment/Getty Images
Migrant Children Update: Hundreds Are Still Waiting To Be Reunited With Their Parents
It's been nearly four months since Attorney General Jeff Sessions first announced the Trump administration's "zero-tolerance" immigration policy that saw thousands of children separated from their parents in detention centers at the border — and more than two months since a federal judge in California ordered that all of those families must be reunited. But The Washington Post reported Friday that hundreds of migrant children are still waiting to be reunited with their parents more than a month since the judge's deadline, and that it could still be "weeks, months or longer" before it actually occurs.
A new court filing Thursday night revealed that 497 children remain in government shelters without their parents, the majority of whom have parents who have already been deported back their home countries as part of the Trump administration's original policy. What's more is that 22 of those children continue to be held in "tender age shelters" for children 5 years old or younger — and six of them, according to CNN, are under the age of 4, with parents who have already been deported without them. So while the government may no longer be actively separating families, and many have been reunited, Thursday's update proves the fight is far from over.
It's clear that the reunification effort has proven extremely difficult, particularly in cases where the parents have already been deported. For one, it's been challenging for lawyers to even track down the parents in the first place — and when they do, they then have to decide whether they want their children sent back to a home that they themselves attempted to flee, or whether they want their children to remain in the United States to pursue their original immigration claim, either living with a sponsor, or in foster care on a long-term basis.
But some parents aren't even getting that far, according to The Washington Post, and are being denied reunification because of "minor or years-old offenses that normally would not affect custody decisions," while in other cases, immigration advocates told the outlet it's not at all clear why they are still waiting. And the complicated legal situation surrounding the case also means that some children who have indicated they want to be sent back to their deported parents can't actually go: part of the judge's order involving the migrant children is that they can't currently be deported, pending a case that argues they have their own rights to claim asylum in the United States, according to CNN.
In other words? The situation is still a heartbreaking mess. During the six weeks that the Trump policy was in effect, according to The New York Times, more than 2,600 children were taken from their parents, yet it sounds like little consideration had been given to how they would eventually bring them back together. The zero-tolerance approach, after all, meant that adults apprehended by border control faced criminal charges according to NBC News, which meant they entered into a separate legal system than their children. And, according to Vox, the administration "didn't officially note which families had been split up to begin with," leaving officials to scramble to figure out just how many children were still separated.
What is perhaps the most concerning though is that even those who have already been reunited with their parents are left to contend with the trauma of being separated. In June, American Association of Pediatrics president Dr. Colleen Kraft said that separating families at the border is a form of child abuse that has lasting effects on children's emotional and physical development, particularly among those who are very young. And in July, a Honduran couple whose 15-month-old son was separated from them at the Texas border told the Associated Press that when they were finally reunited after five months, he didn't seem to recognize them, showing the reality of what the time apart can do.
Although it's obviously a positive thing that the family separations have been halted, and the children ordered to be reunited to their parents, there is still so much about the situation that is beyond heartbreaking and infuriating. And with so many children still on their own, it's important to remember that there is still so much work that needs to be done.