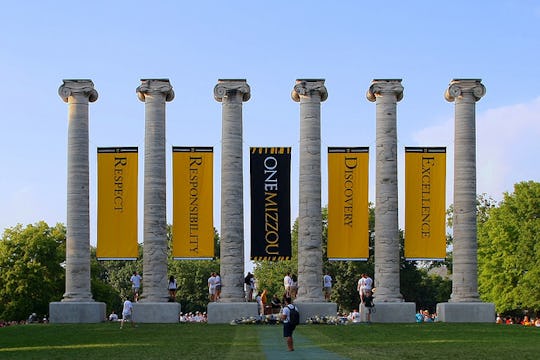 nonorganical/Flickr
Hunter Park Identified As Mizzou Suspect Who Allegedly Made Death Threats To Fellow Students Over Social Media
After a tension-filled week at the University of Missouri, police say they have finally identified the suspect who allegedly posted racist death threats targeted at students. According to ABC News, the student allegedly responsible for Mizzou threats is Hunter Park, a 19-year-old sophomore at Missouri University of Science and Technology studying computer science and math. He is currently being held without bond. 
NBC News reports that University of Missouri police reportedly apprehended Park around 1:50 a.m., Wednesday, at a dormitory in Rolla, Missouri, nearly an hour south of the main campus in Columbia. University police reported yesterday that the death threats were allegedly made over the popular campus app, Yik Yak, which keeps users anonymous. While the outlet reports that police found no weapons during the investigation into Park, One of the incriminating posts that has allegedly been linked to Park was a threat to "shoot every black person I see." In a statement released Tuesday, Yik Yak's Co-Founder and COO Brooks Buffington called the threats "completely unacceptable." Buffington continued on to say, "Let's not waste any words here: This sort of misbehavior is NOT what Yik Yak is to be used for. Period. It is not condoned by Yik Yak."
The incidents Park is being charged with are not the only racial threats that have surfaced against students of color at Mizzou. NBC also reports that the Black Culture Center received a threat over the phone, which prompted a lockdown and search of the building. Though nothing was found, the university issued a security warning to students advising them to stay indoors. 
The threats are just the latest developments to come to light in what's been a tumultuous first semester for students at the University of Missouri. Reports of a swastika being drawn in human feces on a dormitory wall and racial slurs being hurled at several black students led to student protests last week, after the student body felt the administration had not responded appropriately. By Monday, both the school's system president, Timothy M. Wolfe, and chancellor, R. Bowen Loftin, had resigned — reportedly in the hopes that by stepping down, a change in leadership would restore the students' faith. So far, though, that's yet to be seen. 
Image: nonorganical/Flickr