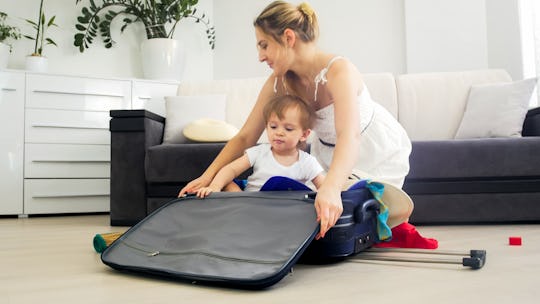 Кирилл Рыжов/Fotolia
Here's A List Of Baby Supplies To Add To Your Hurricane Evacuation Kit
Here we are again. It's late summer and the Atlantic Ocean is hot enough to whip up its latest chain of hurricanes and tropical storms. Now that one million residents in North and South Carolina have been ordered to evacuate ahead of Hurricane Florence, parents are putting on their game faces to endure the trek away from home or to hunker down — hopefully removed from evacuation zones — in a safe place. But to assist them in their efforts to care for their little ones during this emergency, they'll need a hurricane evacuation kit list for babies, like one provided by The March of Dimes, to add to their storm supplies.
The Centers for Disease Control and Prevention advises parents to be prepared to leave quickly with your kit properly stocked. If you are going to a temporary shelter, it's important that staff know as soon as possible that you have an infant on the premises, the agency continued, and do not put off doctor's visits if you are displaced. Exams should be resumed as soon as it is safe to do so, even if you have to visit a different physician.
It's tough to pack for a baby, but it's even tougher to pack when you don't know what to expect ahead of a disaster. Some advice based on my own family's experience with Hurricane Irma last year? Double-up on safety items, even if you have a good supply on hand. Last summer, only a very few stores could open their doors because they had deep enough pockets to run a back-up generator, and the shelves were practically bare. It takes a beat for your community's infrastructure to get back online and you don't want to be caught with a sick baby who has finished up the last of her Tylenol or formula. If it's an essential item, take two and rest easy in the aftermath. If you don't know how to start the packing process, this list can help.