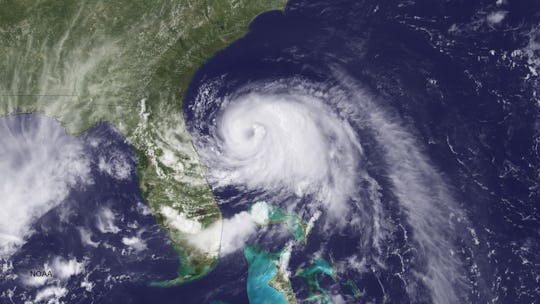 Handout/Getty Images News/Getty Images
Hurricane Irma Is Now A Category 5 — Here's What You Need To Know
As Texas continues to recover from the havoc of Hurricane Harvey, another Category 4 storm could impact the United States later this week. Hurricane Irma updates from the National Hurricane Center show several different predicted paths, some of which could cause widespread devastation to both Puerto Rico and Florida. As of Monday evening, Hurricane Irma had intensified into a Category 4 storm, meaning that it has maximum sustained winds of of 130 mph, according to CNN. Though Hurricane Irma is expected to make landfall over the Leeward Islands in the Caribbean early Wednesday, substantial threats to U.S. territory have prompted both the governors of Florida and Puerto Rico to declare a state of emergency.
Update: As of Sept. 5, Hurricane Irma has been classified as a Category 5 storm.
Puerto Rico Gov. Ricardo Rossello told NPR that 4 to 8 inches of rain are anticipated and "We have established protocols for the safety of all." Florida Gov. Rick Scott offered far more ominous instructions and information for the more than 20 million residents who could be in Irma's path. On Monday, Gov. Scott tweeted, "Use today to buy hurricane supplies and make sure disaster kits are ready. Be prepared for Hurricane Irma now."
According to the National Hurricane Center, Puerto Rico is under a hurricane watch, which means that hurricane conditions are possible, but not necessarily guaranteed, within the next 48 hours. Florida is not under any type of specific hurricane watch or warning for Irma, but Scott isn't taking any chances — especially after the controversy caused by a lack of mandatory evacuation orders in Houston, Texas before Hurricane Harvey made landfall last week. Even without a formal hurricane watch or warning issued for the state of Florida, parts of south Florida are within Hurricane Irma's forecast cone, according to NBC 2, and could be affected as early as Saturday.
Meanwhile, Puerto Rico could be hit by Hurricane Irma much sooner, with exceptionally disastrous impacts to local infrastructure, according to ABC News. Ricardo Ramos, director of Puerto Rico's power company, told local radio station Notiuno 630 AM that Hurricane Irma could render the island without power for four to six months. Even the slightest deviations in prediction models could cause severe destruction to Puerto Rico, according to meteorologists.
While it was the rapid intensification that caught Texas by surprise with Harvey, the uncertainty of Hurricane Irma's path is what is most dangerous right now. The storm is still about 36 hours out from making any kind of landfall, so pinpointing additional landfall or impacts beyond that are still an inexact science. As a result, it's better to be too prepared for very little happening than to be caught in the path of a deadly storm with no preparations.