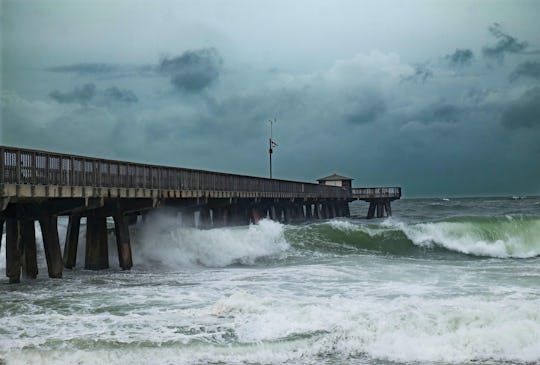 GASTON DE CARDENAS/AFP/Getty Images
Hurricane Matthew Predictions For Where & When It Will Hit Next
Evacuations are underway along the southeast coast of the United States as Hurricane Matthew moves away from Haiti and Cuba. The dangerous, life-threatening storm's destruction — which has left least 113 people dead across the Caribbean — is reported to be comparable to superstorm Sandy's in 2012. To help get people be prepared and aware of its impact, officials have been working hard to predict where and when Hurricane Matthew will hit next. As of Thursday evening, the storm is reportedly surging towards Florida and is expected to reach South Carolina and Georgia by the weekend.
Officials began warning roughly 1.5 million Floridians on Thursday that the state will begin to feel the strong effects of the hurricane the week and have ordered an evacuation in many areas of the eastern seaboard. Officials are acting fast regarding the potential impact because the potentially catastrophic storm may reach Category 5 strength on Florida's east coast soon.
"People do not seem to get it and are not leaving," Martin County, Florida Sheriff William D. Snyder told NBC News on Thursday. "I'm not saying this to be theatrical. I asked my captain of detectives if he had body bags, because if we get 140 mile-per-hour winds in mobile home parks, we are going to have fatalities."
"There is no reason not to leave," Florida Gov. Rick Scott said, according to NBC News. "Do not surf. Do not go to the beach. This storm will kill you." Evacuations in the state included the Miami area all the way north, past the city of St. Augustine.
According to CNN, President Barack Obama also warned Americans in the storm's path to take the evacuation orders seriously because it could have a "devastating effect."
The National Hurricane Center (NHC) projected Hurricane Matthew's path from Thursday evening until Saturday night and is predicting that Florida might bear the biggest brunt of the storms impact.
According to the NHC and The Weather Channel, here's where and when they think Hurricane Matthew will hit next:
Thursday and Friday evening: The storm is expected to hit southeast Florida as it makes its way more north.
All day Friday: Florida will continue to experience harsh hurricane conditions as the storm makes its way up to the central, northeastern Florida coast.
Friday evening into Saturday morning: Coastal areas of Georgia and South Carolina could be hammered by strong winds and rain.
Saturday afternoon through Saturday night: Hurricane Matthew will make its way more eastward and South Carolina will start feeling less of its impact.
Early Sunday: Southern regions of North Carolina may experience hurricane weather.
Even though Hurricane Matthew has been strengthening, the storm isn't expected to hit the northeast of the United States. According to the National Weather Service, after it hits North Carolina, it's expected to move away from the coast and out into the sea.
While state officials are warning residents to remain calm, they are also urging people to keep informed, take necessary precautions, and be prepared for the possibly catastrophic impact Hurricane Matthew might continue to cause, because 140 mph winds are not something to take lightly.
If you're in an affected area, pay close attention to news updates, find shelter elsewhere if you're in one of the specified evacuation zones, and make sure all of your devices are fully charged (get your hands on a portable battery if you can). And if you're okay to stay where you are? Make sure to stock up plenty of wine, water, and snacks to wait out the storm indoors.