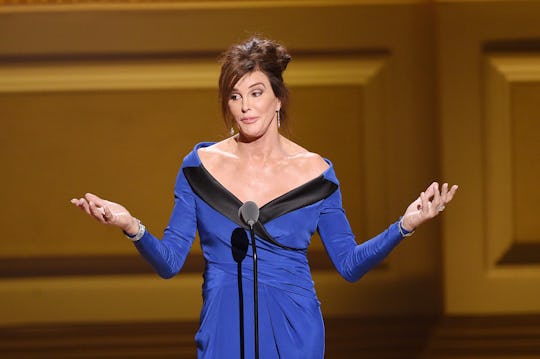 Larry Busacca/Getty Images
Husband Of Deceased 9/11 Hero Returns Her "Woman Of The Year Award," After 'Glamour' Awards Caitlyn Jenner The Same Honor
Last week, in an awards ceremony at Carnegie Hall, Glamour magazine honored Caitlyn Jenner with its well-known Women of the Year award, making Jenner the second trans woman to receive the award since Orange Is The New Black actress Laverne Cox was given it last year. But while many applauded Jenner's win, the news didn't sit well with James Smith, whose wife, Moira Smith, received the award posthumously in 2001 for her heroism during the 9/11 terrorist attacks. Smith was the only woman of the 23 New York Police Department officers who died during the attacks, escorting over 100 victims out of the World Trade Center's south tower before dying in its collapse, according to The Washington Post. Fourteen years later, Smith's husband, a resident of Long Island, has returned her award.
"Was there no woman in America, or the rest of the world, more deserving than this man?" Smith lamented in a letter to Glamour editor Cindi Leive. "At a time when we have women in the armed forces fighting and dying for our country, heroic doctors fighting deadly diseases, women police and firefighters putting their lives on the line for total strangers, brave women overcoming life threatening diseases . . . the list of possibilities goes on . . . is this the best you could do?" 
According to the New York Post, Smith allegedly "yanked the award off the shelf" in his home and promptly FedExed it back to Glamour, along with his letter. His strongly-worded missive ended with the highly questionable conclusion that Jenner's inclusion as an award recipient was a "publicity stunt meant to resuscitate a dying medium."
In response to Smith, a spokesperson for Glamour said in a statement to the Post that "We were proud to honor his wife… in 2001, and we stand by our decision to honor Caitlyn Jenner. Glamour's Women of the Year Awards recognize women with a variety of backgrounds and experiences." Sadly, many throughout the Twitterverse sent out hate tweets toward Jenner, in support of Smith's actions. But in truth, these tweets make it all the more clear why it's so important for institutions like Glamour to publicly support the trans community.
Other recipients of this year's Glamour award included actress Reese Witherspoon, Cecile Richards, the president of Planned Parenthood, and Misty Copeland, the first female African-American principal at the American Ballet Theatre. During her acceptance speech at the awards ceremony, Jenner told the crowd, "You are not born a woman; you become one."  
Perhaps truer words were never spoken.
Image: Larry Busacca/Getty Images