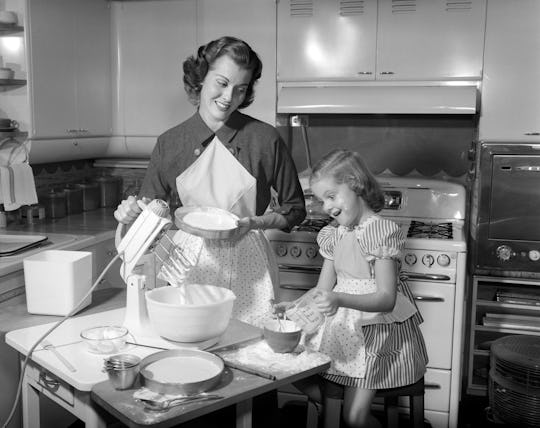 LOL aren't we having SO much fun, Sally? Photo: Debrocke/ClassicStock/Archive Photos/Getty Images
I'm So Tired Of Cooking
I have cooked so many days in a row for my family. So many days. I'm honestly losing steam, and I'm so tired of cooking. I'm tired of the dishes, I'm tired of the snack requests, I'm tired of having to feed my children at regular intervals. I'm tired.
I know that this is totally a "first world" problem. My MawMaw cooked every single meal her family ate for over 40 years, and it is in no small part thanks to her that I even know how to cook. And I humbly admit, I am no MawMaw. I live in Brooklyn, and we would get delivery or takeout, or eat at an actual restaurant for at least three meals each week. And five days out of the week, my children ate lunch at school, and my husband ate lunch at work, leaving me alone to eat my Goldfish crackers and hummus without anyone complaining about it. It was glorious. But now? Everything's gone upside down. And I'm just over it.
But I've found some shortcuts, and luckily most of these meals that I'm suggesting are pure comfort. Sure, I've added veggies or fruit to most of them, but seriously, now is not the time to fret about your children's picky eating habits. They have enough stress in their lives, so why not make kid-friendly, easy dishes that everyone loves? Registered dietitian Evelyn Tribole told The New York Times that right now everyone needs comfort food, and if there was ever a time to indulge, a global pandemic is it. Sure, you might go all out and make a huge Sunday roast supper once a week and that will make wonderful food memories, but during the slog of daily life? Give yourself a break.
(You're also welcome to hide in the laundry room eating Goldfish and hummus with a White Claw smoothie and a mindless novel. I highly recommend it.)