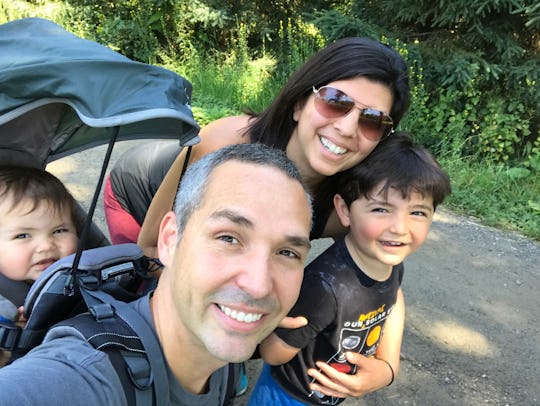 Courtesy of Marisa Iallonardo
I Became A Mom & Somehow Costco Became My Happy Place
Now that my son and daughter are squarely in their preschool and toddler years, I've come to the conclusion that no doubt more experienced parents have already made: Kids need a lot of stuff — and you often run out of said stuff at the worst possible time.
It's happened to me and my partner with wipes, with snacks, with diapers. I remember one night in particular when we realized we ran out of diapers. My husband swears it was the middle of the night; I say it could have easily been any time after 8 p.m., which to a parent with a small baby can definitely feel like the middle of the night. Either way, after checking the package by the changing table and coming up empty, we scoured the usual spots to find an extra: the diaper bag, the nursery closet, even the trunk of the car as a last resort. Luckily, we did eventually find one rogue, clean diaper, but the stress of that helpless moment of new parenthood still lingers.
Then one day we were at Costco Warehouse to buy a few things for an upcoming party we were hosting. As I was pushing my cart through the aisles, I realized the solution to my running-out-of-stuff problem was literally all around me: baby things! Wipes! Diapers! And diapers in huge quantities that wouldn't leave us stranded with a less-than-clean kid at 3 a.m.!
And the best part was that it wasn't just the diapers, like Huggies® Little Movers Plus that fit my almost 2-year-old daughter, but also the Pull-Ups® Plus training pants that my son still wears at night. I don't know why I hadn't thought to do this sooner. In the past, we would just buy our baby essentials when we ran out of them. Even on this particular trip, we hadn't gone for anything baby-related, but I realized that stocking up in bulk would give us peace of mind, and meant no more mid-week stops at the store. It was like one of those lightning bolt parenting moments that literally stopped me in my tracks. Or, in this case, stopped me in the middle of the diaper aisle.
As I scanned the offerings with a newfound appreciation, I realized that buying in bulk at Costco Warehouse had saved the day, but truth be told: I didn't always feel that way.
Pre-kids, the idea of buying in bulk just wasn't on my or my husband's radar. Sure, we'd possibly get together with friends to pick up supplies for a weekend camping or ski trip, but it wasn't a regular occurrence. Partly because we didn't have much room in our one-bedroom apartment, and partly because even though I'd like to think of myself as a true carrots-and-hummus aficionado, I just couldn't eat that many carrots and hummus, even if I tried really hard.
Fast-forward to two kids and almost five years into this whole parenting thing, and it's a much different story. Once the kids came along, there always seemed to be a reason to celebrate, and it became a habit to swing by Costco Warehouse to get food, plates, paper towels, and other supplies whenever we hosted a birthday party, summer BBQ, or holiday.
But mass quantities of paper goods and picnic-worthy packaged foods were not the only reasons my husband and I stalk the aisles. As we quickly realized (just like with the diapers and other baby stuff), little kids go through snacks faster than seems humanly possible — and since my daughter can down them at about the same rate as her older brother, stocking up on mass amounts of snacks at a time isn't just necessary, it's also cost-effective. And what's great is that I can find more than just the run-of-the-mill stuff; there's fruit, applesauce pouches, individual-sized bags of popcorn, you name it, so I have options when I inevitably offer up the snack they don't want, even though they loved it yesterday. (Moms, I know you get me.)
The thing that's really gotten me hooked, though, is that this beautiful, incomparable world of buying in bulk lessens my stress — and between work, raising kids, and everything else, I'm all about stress-cutting these days. Here's an example: Recently, I got an email from my son's preschool about bringing in food for a teacher appreciation breakfast. I had a big box of mini-quiches from Costco Warehouse in the freezer and, that morning, I put them in the oven for a few minutes and I was done. No cooking, no baking, no last-minute trip to the store. From what I heard, the teachers enjoyed eating them just as much as I enjoyed not actually cooking them. A win-win if there ever was one.
Another funny thing: You know that old saying about how when you're pregnant you seem to always see other pregnant women? Among my parent friends, it seems like whenever I ask where they got something or where I should get something, the answer is Costco Warehouse. It's where my friend found her cute workout pants. Where my sister-in-law finds clothes for my nephew. It's where my friends told us to start looking when we wanted to buy a swing set for our backyard. The possibilities of this magical dreamland are endless — from diapers like Huggies® Little Snugglers Plus to the snacks that won't leave me stranded with screaming kids at the playground.
On our most recent trip, my husband and I were shopping and it felt like that old game show: diapers, in the cart! Pasta, in the cart! Laundry detergent, in the cart! And while we thankfully didn't spend as much as they do on the show, the idea of getting all these great things in one place has been a game-changer.
So listen, if you had told me in my pre-kid days that I would someday find joy in buying close to 200 diapers at a time, or find satisfaction in buying and actually finishing large bags of granola, I probably would have said nah, not me. But, if you had also asked me if I would have pictured myself cutting grapes into quarters and going to the bathroom with the door open, I would have said the same. As we know, kids change things — and I couldn't be happier about that.
This post is sponsored by Huggies.