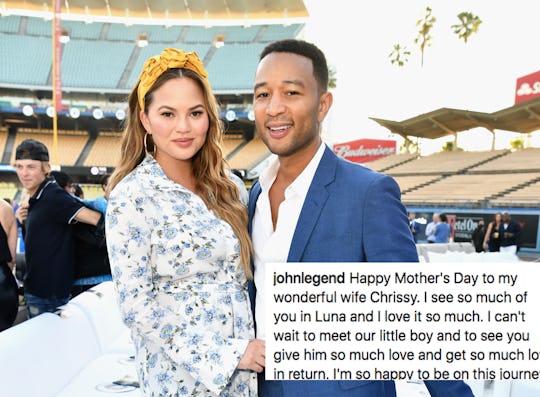 Emma McIntyre/Getty Images Entertainment/Getty Images
I Didn't Get A Shoutout From My Partner Like Chrissy Teigen Did & I Hate That I Care
After hours of debating, at 3:04 p.m. on Sunday, I uploaded three photos to Facebook for a Father's Day shoutout, honoring my father, my partner, and my mother's long-term boyfriend.
Realizing my omission, I immediately texted my partner's father, too: "Happy Father's Day!" Oops. Would I ruffle feathers by leaving him out since I'd now included my mother's beau? The simple caption wasn't overly doting, but did acknowledge Father's Day, a day in which it'd be weird if my normally oversharing social media personality didn't acknowledge the father of my children.
But truth be told, I gave birth to my daughter in November of last year and received not one acknowledgement from my partner on Facebook on Mother's Day. No photos with corresponding doting paragraphs praising me for how much I love and sacrifice for our children, or for pushing a brand-new one out just six months prior. I hate that it pained me so much that I didn't have my own special tribute, although I did receive presents and brunch plans (that I opted to cancel, haha). It's not like my family didn't acknowledge me IRL, but I was livid that they didn't go tell it on the mountain.
I uploaded the obligatory social media post to check a box.
And I debated giving an equal cold shoulder to my partner when his special day rolled around, but thought about how that might seem to the masses, "Is it an indication of a flawed relationship?" being the primary thought. Really, people don't give gifts with the expectation to receive them. So, I uploaded the obligatory social media post to check a box and ward off whatever negative juju my social media silence on one of these ever-important holidays would signal to our friends and family and colleagues watching for declarations of love and admiration.
If I felt this kind of silly pressure on Mother's Day and Father's Day, I can only imagine the feelings that other moms might have felt, like those who are divorced or co-parenting, or have lost husbands and fathers. And of course we have begun to acknowledge those losses, even as we fan out the lucky mother and father figures in our lives who still walk the Earth in an array of Crema filters.
For 48 hours each year, we have to bear witness to a range of touching tributes, but mostly a bunch of people who feel obligated to share with us the love they have for their partners and parents making those who say nothing at all — i.e., myself — feel less than loved and neglected.
Still, I loved watching all of the honest celebrity tributes, and slowed my scroll over the women praising their fathers and husbands, including some from my favorite moms of color.
Kerry Washington acknowledged that she was simply doing it for the 'gram, while Ciara posted the kind of intimate pic that makes you feel like you're missing out every day you don't participate in her marriage with Russell Wilson. Likewise, Gabrielle Union's shoutout to her man was written in a funny, lighthearted way but the sentiment felt real, important, like, this is why we do these posts.
Ditto Chrissy Teigen, who trolls John Legend even when she's loving on him.
But for every tribute, beaming faces with adorable children, there's imperfection and struggle that the Instagram filter glosses over.
Take, for example, Fabolous and Emily B., a couple who I've followed since Emily's casting on VH1's Love & Hip Hop. On Father's Day, she uploaded a photo of Fabolous with their three children, much to the dismay of her followers upset with the couple's reunion after alleged domestic violence charges against the rapper, reported on by Bossip and Ebony. Even with her celebrity status, and fans following the news, did she, too, feel the pressure to acknowledge her husband on social media for Father's Day?
The only thing to put in these tributes is the good stuff, the people you are lucky enough to have. But if they don't know it already, what point is it @ing your partner on your social media platform of choice? And what does it say about me, or my relationship, or our expectations as busy, tired, loved-out mothers that we care if we don't get one of these digital Valentines?
On Mother's Day, John Legend posted a 'gram women the world over were instantly lost over.
The sweet, simple, loving sentiment. The open adoration. It kills us. But why tell her via Instagram? We know that they're both sitting right there on the couch.
I hate that I cared about not getting a Mother's Day shoutout in part because those little declarations by partners of gratitude and love for women doing the work as moms teach us to second-guess whether or not we are valued, and loved, for all that. They train us to look over at the person sitting exhausted next to us after ten bedtime stories and wonder: but... couldn't you have tagged me?