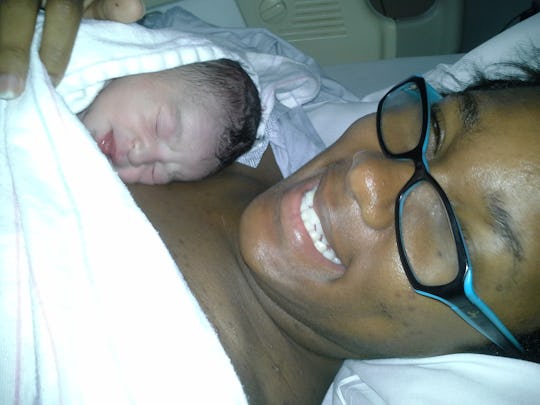 Courtesy of Sa'iyda Shabazz
I Had The Birthing Experience Of My Dreams, Thanks…
When I was pregnant with my son, I knew exactly what I wanted in terms of establishing a birthing plan. I knew that I wanted to have a vaginal delivery. I knew that I wanted the least possible medical intervention, but I wasn't against medication if I needed it. Because my birthing plan was fairly specific, it was important to me to have as much information about my options as possible.
When I saw that my clinic offered a childbirth class, I knew that I wanted to go, and that it was important for my partner to be there as well. He wanted to be in the delivery room, and I was not interested in going to the class, then coming back to teach him everything I'd learned there.
The class was eight hours long and spread out over two consecutive Saturday afternoons. Armed with comfortable clothing and snacks, we decided to go — and I can honestly say that what I learned there helped me achieve the birthing experience I had always wanted.
The clinic recommended taking the class when you were around seven months pregnant to give you plenty of time to be prepared. I was 36 weeks pregnant and one of the farthest along at the time. I sat down and pulled out a pen and paper, eager to take notes.
The instructor was a slightly older woman who was well-versed in natural childbirth. During the first class, most of the focus was on what actually happens to the body during labor and birth, as demonstrated by a CGI video presentation. I found watching the cervix dilate and seeing how the baby came down the birth canal absolutely fascinating.
Then the instructor told us that we'd be getting on our feet to practice some breathing exercises. Sitting in a large circle, she demonstrated how to properly breathe and then had us parents try it as well. Because my partner and I both had trained as actors, we had already mastered breathing skills, so the instructor brought us to the center of the circle to demonstrate.
Later, I found out that much of what we were learning was the Lamaze method, which focuses on breathing and other techniques to aid in vaginal delivery. While that is the main focus of the method, it also teaches you how to adapt to pain and what to do if you decide to get pain medication. Comfort during labor is also an important aspect of the method: during the first class, for instance, we learned some of the most comfortable ways to lie in bed if you find yourself confined to your hospital bed, and we discussed other delivery positions as well.
During the second class, we learned how to stay physical during labor. We danced, learned a few yoga moves, and also learned how to open up the body for delivery. One of the most effective positions for me was getting down on all fours, which I ended up doing during the labor itself. From that position, I was able to arch and curl my back to relieve pressure. I was also able get into child's pose to better support my breath and open my cervix.
If I hadn't taken a birthing class, I would not have been able to have the kind of birth experience that I wanted.
We also learned another important part of the Lamaze method: the support of the partner during labor. Fortunately, my partner and I were on the exact same page about how I wanted to deliver. He was fine with me potentially undergoing labor without drugs, and he understood my desire to be both physically active and as relaxed as possible during labor. He paid attention to the classes and wanted to give me all of the emotional support he could.
When I started having contractions, I didn't go to the hospital right away, because during our class our instructor told us to not rush to the hospital at the first sign of labor. She explained that there was a chance that you could prolong your labor by getting an epidural too early, because the epidural might slow down contractions. She also warned us that we shouldn't be confined to the bed for too long if it wasn't necessary.
As someone who is not particularly keen on hospitals, I took this piece of advice to heart. I decided to labor at home until the pain got to be too much, and then we would go to the hospital. While I was at home, I could hear our instructor's voice telling me to breathe, to get up and move around. When we got to the hospital I was completely dilated and ready to push. After about an hour of pushing, my son was born.
I truly believe that by taking a childbirth class, you are doing both you and your baby a huge favor.
Ultimately, I did end up having a drug-free, vaginal delivery. The breathing techniques that we learned on the first day proved to be invaluable during my labor. Deep breathing helped me immensely during the really strong contractions: it didn't eliminate the pain, but it made the pain more manageable. My partner was my rock, encouraging me and telling me that I was doing a good job. He would constantly refer to what we had learned during class and help me get comfortable during contractions.
I know there is no such thing as the perfect birth plan or the perfect birthing experience. But I know that if I hadn't taken a birthing class, I would not have been able to have the kind of birth experience that I wanted. Birthing classes allow you to pick and choose what you think would work best for you and your body, and I felt that my partner and I were actually more connected during my labor and delivery because we had done the class together.
Labor and delivery are terrifying, and it can be overwhelming to navigate all the information that's available out there about childbirth. But I truly believe that by taking a childbirth class, you are doing both you and your baby a huge favor.