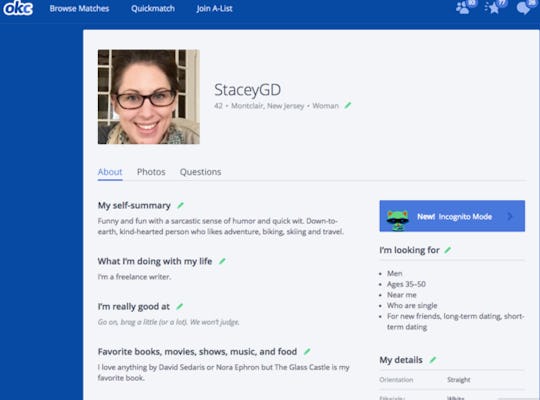 Courtesy of Stacey Gill
I Joined Online Dating Sites With My Partner To See If We Were Actually A Match, & Here's What Happened
I've long wanted to join a dating site with my husband. It may sound strange, but this desire was born out of pure curiosity. I needed to know if we'd been living a lie all this time. Sure, we may have been together for 20 years, and sure, we were in love, and sure, we still had fun together, but that didn't mean anything. How did we know we were truly meant for each other? We're not Google analytics. I needed hard data, and digital algorithms were the only definitive way to find out. So my husband and I joined several dating sites to see if what was in our hearts was borne out by the metrics.
The Experiment
At first it was a little tricky convincing my husband to go along with the experiment. I had to promise I wouldn't actually go out on any dates. I also reassured him that he didn't have to communicate with anyone or do anything other than set up a profile. But I'm pretty sure he thought I was looking to replace him. And, he didn't want anybody to know. So don't tell, OK? Honestly, I just wanted to see if these sites lived up to their promises. Did computers really know better than humans what was best for us?
So in the spirit of in sickness and in health, we signed up to see if online dating knew better than we did, and here's what happened.
OkCupid
First I signed up for OkCupid, which was super easy. After three steps and a few minutes to create a profile, I received a message from "Alice," an employee, or bot, of the company, with information on how the site worked and tips to improve my experience and success. Turns out her tips were unnecessary, because without doing anything and with an incomplete profile, I racked up 15 messages in just a few days from potential suitors. (I know no one says "suitors" anymore, which is another good reason to stay married). I was somewhat flattered and impressed with myself. Of course how interested could someone be when all he knew about me was that I was a straight, white, single Pisces?
After my profile was filled out, the site crunched the numbers on me and allowed me to "browse matches". A bunch of potential customers popped up along with their profile picture and the percentage the two of us matched. The candidates were in total random order, though, forcing me to scroll endlessly through quasi-matches to see if there were any more better-suited single men out there. Or, in my case, my husband.
One of my best matches, at 80 percent, was Dancespirit, which sorta goes to show right there the matching system was broken. I would never date a guy named Dancespirit. I wish nothing but the best for him, but I just couldn't see it working out between us. The best suggested match, at 69 percent), was a 34 year old from New York whose profile picture looked like it may have been taken on Valentine's Day right after his girlfriend dumped him. His close-up was taken in front of a big, red, shiny heart. He looks slightly pissed off, possibly due to the multiple lacerations to his face, one of which was dressed with a Band-Aid, and if I'm going to be completely honest, I really couldn't see a future there, either. 
Although some of the matches were questionable, the good thing about joining a dating site when you're married, aside from not having to go out on a bazillion blind dates, is the messages you receive. It's a nice ego boost – even if it is so someone can try to get down your pants. I'll take it. 
"I find you INCREADIBLY [all caps and misspelled] gorgeous. I really think we should chat," one interested party wrote, and if I wasn't married I'd take him up on that. Another called me "irresistibly cute." Funny, my husband never calls me that. You better believe I'll be throwing those compliments in his face every time we get into an argument. Whenever he says I'm being unreasonable, I'm going to say, "Oh, yeah? Well, LuvMuffins95 didn't think so. He said I was INCREADIBLY gorgeous. All caps!"
As I read through the profiles of some of the matches, I started to forget I wasn't actually looking for a date. One guy's profile was so compelling I found myself looking forward to meeting him. His profile said he likes traveling, weekend getaways and rooftop bars. So do I, I thought. I don't get to do any of those things because I'm married with children, but I still like them. OkCupid only gave him a 67 percent match, which is weird because I'd totally date him. And there were some guys who seemed genuinely nice. One took the time to read my profile and write a sincere message asking a question about me. He wanted to know the type of writing I do. Do you think I should tell him?
The highest match I got was 87 percent, which wasn't bad. Unfortunately, it wasn't to my husband. He never showed up on the list.
Hinge
As part of a well-rounded, scientific experiment, I also checked out Hinge, which I'd never heard of before probably because as a married woman I wasn't really up on all the latest dating apps. It's relatively new and bills itself as a site for relationships rather than mere hookups like that other dating app.
Hinge was even easier to set up. With a few right swipes of sample male profiles (left swipes meant I wasn't interested) to clue the app in on my type and a couple of taps on my profile to select the appropriate pre-made descriptions of myself, I was all set up and ready to meet my hand-picked soulmates. Unfortunately, there weren't many. I had high hopes for Hinge because the sample batch of men were all good-looking, well-educated professionals. The men were so attractive, in fact, I started to wonder if this was the dating app for models. Would I get the boot? I was "increadibly" gorgeous, though, at least according to LuvMuffins95.  
By all appearances, Hinge was the dating app of the day, the better, sleeker, upscale app with high-quality people serious about pairing up and settling down. It was perfect for the modern, sophisticated woman who was looking for a committed relationship like myself. But when it came time to meet my dream guy, the app only showed me a few. I did see a possibility with one, though. Like me, he was a "dance machine," "bookworm," and "wine lover". Too bad he wasn't my husband. 
The problem with Hinge, aside from not pairing me with my spouse, is that you aren't allowed to view all the potential candidates at once. You're only shown each "possibility" one at a time and must decide on that person before the app will show you another. I don't like to be rushed. I like to take my time, mull things over and compare notes. This isn't the McDonald's drive-thru after all. This is the rest of my life we're talking about here.
The other problem with the app, at least for me, is that it works by connecting to your Facebook account. It pulls personal information from there and supplies candidates based on the people both parties are friends with jointly on the social media platform. Hinge touts this as a way to find reliable, trustworthy, non-creepy dates. But I know a lot of people on Facebook, not all of them well, and who's to say your friends are good judges of character? Maybe their friends are lunatics. You don't know.
Perhaps a friend of a friend on Facebook is better than some random stranger,except for when you're married and you don't want the whole world finding out you're trying to date their friends. I guess that's where Ashley Madison comes in.
Eventually, Hinge found some more available men for me, but as much as I swiped, I never could find my husband. It was sad, too, because I really think we'd be good for each other.
Tinder
I planned to bring you my results from my escapades on Tinder, too, but my husband outright refused to participate in that one. He remained leery of this experiment the whole time, saying he really only wanted to be with me. He didn't care what the algorithms said. Which, while sweet, only made my job harder. It's like I had to force him to get out there and play the field. I did succeed in convincing him to join Tinder, but when he recognized someone he knew on the app, he shut it down after an hour. He didn't want anyone to get suspicious of him or think he was cheating, and although I know several people who have met through Tinder, the app still does have a reputation of being a bit of a hook-up site.
Either way, Tinder was wonky for me and refused to show me any potential dates. When I finally got it working, I had plenty of guys to choose from, but much like Hinge, Tinder presents them in a deck of cards style with very little information on the person with whom you hope to spend the rest of your life. You're to make a split-second decision based on pretty much nothing and either "X" them or "heart" them. If two people both "heart" each other, they're considered a match, but I really wouldn't call that matchmaking.
Were We A "Match"?
The end result of all this is that my husband and I were never matched. When I set out with this little experiment, I was almost positive we'd be matched together. I'm pretty sure he didn't give it much thought one way or the other, but now that we weren't paired together, I had to wonder, were we all wrong for each other? Was our 15-year marriage just a hoax bound to topple sooner or later? Did this mean we should divorce?
Of course, it's going to take a lot more than Tinder and algorithms to tear us apart. If our kids haven't managed to destroy our relationship yet, pretty much nothing will. I just wanted to put the dating sites to the test on their claims of finding the perfect match, because I don't believe raw data can determine a romantic compatibility. While I think dating sites are great and I would certainly use them were I single, a relationship is so much more than checked off boxes.
Falling in love isn't determined by whether you're a smoker or nonsmoker, an early riser or a night owl, a bookworm or wine lover. It's a feeling. It's something that can't be calculated or quantified. Dating sites are a great way to find other singles in your age range within close proximity, but love is something different all together.