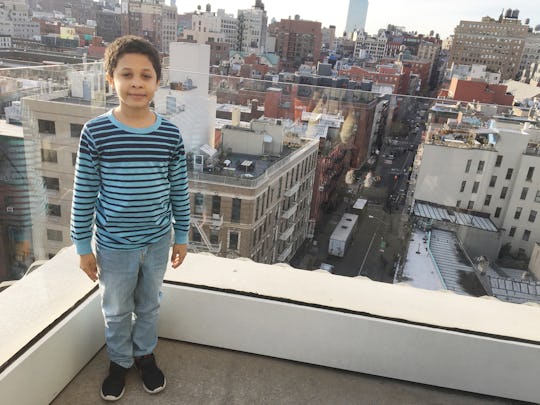 Photo courtesy of Allison Cooper
I Let My Kid Have a "Personal Day," & It Was One Of The Best Parenting Decisions I Ever Made
There are days where I wake up with our alarm clock in the morning and struggle to get out of bed for no rhyme or reason. I move slower on these days and allow myself to take more time than necessary to do whatever tasks on my list that day — because I know that for some reason, my body and mind just needs those extra moments. Every once in a while, I call it a personal day and cross everything off my to-do list completely. With kids, it really truly seems to be a different story. There are just different expectations and as a parent, I think that it's OK for kids to take a personal day if need be.
I'm not sure about you all, but every month, my son's elementary school sends home a calendar and in the bottom right hand corner in small print, it always reminds us of their uniform dress code and the fact that these students are only allowed to miss nine days of school the entire year. Nine.
Here's the thing: my husband recently signed a new contract at work that allows him two weeks of paid vacation per year, as well as something like seven personal days, which I think is pretty standard. So not only does my son not get the same amount of rest days whenever he's out of the house the same amount of time that's equivalent to a full-time job (we leave the house at 6:50 a.m. for the bus and he gets off the bus at 4:50 p.m.), but he will be held back a grade if he surpasses those nine allowed absences. This has me shaking my head.
Whenever my son started elementary school, I was pretty strict about him making sure that he was at school every day and taking as few sick days as possible. As the years have gone by, I loosened my reigns a little bit and have taken some time to really look at the big picture. My total acceptance of allowing my son to take a mental health day didn't happen overnight. It started only a little over a year ago, in fact.
He needed that time so badly to be outside the classroom, exploring something new, and he was so much better for it.
My son was deep into third grade and having a really tough week. He was sluggish in the morning, getting really upset over the amount of homework he was getting that week, and I'm pretty sure that state testing stress was looming. This resulted in him acting out both at home and at school and, from my mom point of view, I realized that it was all because he didn't have any downtime in sight and was yearning for a reprieve. I do my best to pick up on the cues that my kids are sending me, even if they aren't clearly or verbally telling me what's going on.
So once Friday rolled around, I said "eff it! You are staying home today — it's going to be a personal day!"
Instead of being home and feeling the pressure of needing to keep both my son and his then baby sister occupied after our routine was kinda shot from this spontaneous decision to begin with, I decided to strap on my baby carrier and take the kids to The New Museum in Manhattan to check out The Pixel Forest Exhibit before it closed down. Looking back, I'm not sure where I got that confidence to wait in that extremely long line to get in with two littles, but we did it and had an incredibly creative, memorable day.
And on Monday, he was able to go back to school, radiating his normal, inquisitive, excited to learn, and more focused personality. He needed that time so badly to be outside the classroom, exploring something new, and he was so much better for it.
This day taught me so much as a mom. I get now that that school calendar isn't always right and that kids need to be out of the classroom, having hands-on experiences and doing more of what makes them happy. So I allow for a personal day for my son to do that every once in a while and I feel like it really benefits us all.
Maybe you think I'm crazy. Maybe you think I'm a genius. But this is only going to prepare him for adulthood and the hard moments that come his way as he grows older.