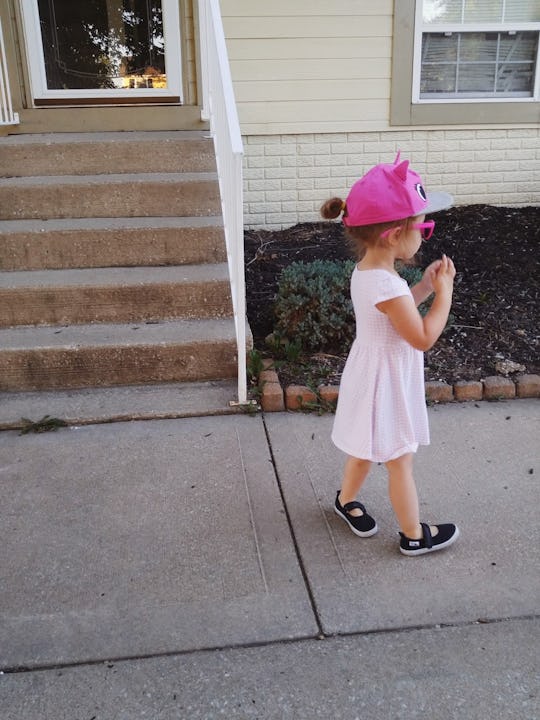 Courtesy of Mary Sauer
I Let My Toddler Dress Herself For A Week, & Here's How It Went
Occasionally, we have a little conflict over clothes in our home. My 3 year old has this wonderfully strong personality, and she's smart, and she thinks for herself. As awesome as I think that is, it can cause conflict from time to time. Lately, there has been some debate over what is appropriate to wear out of the house. I feel like I'm getting a glimpse of her teenage years, but thankfully we're disagreeing on things like whether or not hot pink and fire-engine red look amazing or awful together. I want my daughter to feel independent and in charge of her fashion choices, but at the same time, most days it's just easier for me to pick out what she and her sister will wear in an effort to get out of the house as quickly as possible.
I've read plenty about encouraging independence in children by giving them some freedom to make their own decisions, even from an early age. And lately, I've been wondering why I felt I needed to control what my daughter was wearing. Is it really so important that she matches when we leave the house? No, and yes. I want to make sure my daughter is wearing age- and weather-appropriate clothes when we leave. I want to make sure she's warm or cool enough so that later on it won't be a fight about whether she needs to take layers off or add them on. But then I realized that I'm raising an individual, and if I'm going to give her the power to dress herself, maybe I should start now.
The Experiment
I decided to see what would happen if I let her dress herself for a week. I was curious what kind of choices she would make, but I was also curious how others would respond to her choices if I posted a picture on my Instagram account or took her out for the day.
Before I started, I set the ground rules. First, I decided I couldn't try to influence her outfit choice in any way — that meant no hints or subtle suggestions to any clothing decisions she made. I also decided I could veto for one reason only: if she wanted to pull something out of the dirty hamper. Feeling like this experiment was going to be simple enough, we got started right away.
Day 1: Toddlers Look Cute In Just About Anything
On day one, I told my daughter to pick her own outfit after breakfast. She ran to her room and picked out a watermelon sundress right away. I was excited that she had picked something easy and light so I wouldn't have to worry about her getting too hot if we went outside.
After I helped her put it on, she got a little worked up and said, "Mom! We forgot my pants!" She'd picked out a pair of green striped pants to go along with her watermelon dress. I was iffy about the color combo at first, but once it was on her, I realized it actually looked pretty awesome together.
I posted this picture online and someone commented, "Hey, they say if you are going to mix patterns, they should at least be in the same color family. She did that with the greens." Maybe my daughter has an eye for color and fashion? It was really fun to see her feeling so great about the clothes she had on.
Now I know if anyone can pull off pattern on pattern, it's her.
Day 2: Velvet In August?
When day two rolled around, I found myself wishing I had done a quick inventory of her drawers before we started. There were a few winter items in the mix and, sure enough, those were exactly what she wanted to wear. She picked out a long-sleeved, velvet dress with guitar print pants. We didn't have plans outside of the house, so I didn't put up a fuss, but I knew if we were heading out I would have had to intervene or she would have been miserable.
When my mom saw her outfit for the day she said, "Oh dear! Did you dress yourself today?" I quickly interjected, "Yeah, don't you love how many colors she is wearing?" It was really important to me that my daughter didn't feel embarrassed by her choices, and I wanted her to feel comfortable exploring colors and patterns if that was what she wanted to do.
Day 3: OK, Does She Know How Hot It Is Outside?
When day three rolled around, I started to wonder if she had noticed we were giving her some independence when it came to her fashion choices. At the breakfast table she declared, "Today, I NEED to wear my romper!"
Her romper is a tank and shorts, perfect for August. It was perfect, until she also wanted to layer leggings and a cardigan on top. Does she realize how hot it is outside? I let her wear the entire ensemble at home, but I did encourage her to take off the sweater when we left for the store, which was totally fine with her — as long as she could put it back on when we got home.
When I posted this picture on Instagram, my first commenter said, "Well, at least she is wearing clothes." I wasn't sure if they were trying to be critical, but I loved this combination so I responded with, "I think she looks great!"
Even though I would never wear this outfit, I think she looked pretty darn cute.
Day 4: Girlfriend Has Good Taste
On day four, both of my girls were going to be spending the day with their grandma. I was really worried she would try to pick out something hot again, especially since they usually spend most of the day outdoors when they go over there. It was hard not to steer her in the right direction; I was really worried she would be hot and uncomfortable, and I really felt like at 3-years old, she is too young to really understand the consequences of choosing to wear a sweater in August.
In the end, day four ended up being my favorite outfit. She picked out a pink gingham sundress, her Mary Janes, a hot pink baseball hat, and sunglasses.
When I posted a picture of her strutting her stuff on Instagram, the first commenter said, "Wow! Such 'tude!"
It was so fun watching her strutting around before leaving the house — I think she was aware of how great she looked that day. I love that her self-confidence hasn't been tarnished by the opinions of others; she is so blissfully unaware of what other people think and she does what she wants — I really admire that part of her personality.
Day 5: How Many Colors Can You Wear?
Day five's outfit was not something I would have normally picked out for her, but she did look awesome in so many bright colors. She picked out a yellow, orange, and pink skirt, pink slip-ons, and a purple top with bright-colored flowers on the front. I was happy she picked something so summer friendly since we were planning on spending the day at the zoo.
At the zoo, she was stopped by a stranger twice to comment on her skirt and to tell her how cute she looked. Sometimes, the attention she gets for her looks makes me uncomfortable. Of course I think she is cute, but she is also so kind, funny, and smart. I want her to know those things are much more important than her looks.
Overall, this was my second favorite outfit she wore all week. With the bright colors and pink tennis shoes, she looked exactly how I think a toddler should look: like they love getting dressed in the morning. And she did; she picked those colors because she likes them, not because of how they looked on her.
Day 6: Did Someone Break The Rules?
On day six, I wasn't around when she dressed herself for the day. When I got home from running errands, I saw she was wearing shorts and a tank top. This outfit was so normal that I really did wonder if she may had some help from her dad or grandma picking this one out. I was really starting to look forward to seeing her decked out in layers and bright colors each day, so I was surprised and maybe even a little disappointed by her choice. Still, I know the elephant shirt is one of her favorites and she seemed perfectly happy with her outfit.
That evening, when we ate dinner at my in-laws with some of their friends, she made a point to tell more than one person, "This is my elephant shirt. It is my favorite." Toddler's are so great because they instinctively know you should wear what you want because you like it, not because of how it makes your body look or because someone told you it was the right color for you. It was awesome to see her so proud of her choices (even if someone did sneak her a little help).
Day 7: Going Out With A Bang
On the seventh day, my toddler went out with a bang. Even though I didn't fill her in on the experiment at all, it was almost as if she knew this was the last day. Before I could even finish my first cup of coffee, she presented me with a hand-me-down dance outfit. It was orange with black-and-white polka dots.
Later in the day, I asked her if she "wanted to get dressed for real." She looked at me, confused, and said, "I am dressed already! These polka-dot pants are my favorite." I tried to explain to her that those were just dress-up clothes not every-day clothes. But in her toddler mind, dress-up clothes are every-day clothes.
I have to confess — this outfit may have been the reason I postponed my trip to IKEA by a day because I'm not sure I could talk myself into letting her wear this out and about. I am not a fan of getting attention from strangers, and I am sure this outfit would have gotten at least a few comments.
What Did I Learn?
This week I thought a lot about why it's so important to me how my toddler looks in public. I think it's interesting I feel so responsible for her looking "put together" and "well-dressed"; she's just a child so why does what she wear really matter? Even though I know in my heart I am a good mom, I think my awareness of what others think comes from me wanting others to believe that I am a good mom too.
With Instagram and Facebook, there are so many mothers you can compare yourself with. At times, it's easy for me to to see their filtered photos and believe they're an accurate picture of their lives. It's easy for me to believe their kids are always that well-dressed, their dinners always look that beautiful, and their homes always that clean. Seeing those staged and filtered photos each day makes it all too easy for me to feel like they're the standard by which I should judge my own family life.
Throughout the experiment, I realized something: Why does it even matter whether or not my kids are well-dressed? I feel silly that I got caught up in the comparison game because I don't want my children to believe they have to look a certain way to be liked or gain others' approval. Letting my toddler dress herself is a one way to encourage her to be herself. In the end, it didn't seem to matter what she wore in public or if she really matched. What mattered was that she felt proud and confident in her choices. And if head-to-toe polka dots can give her that, then I'm not going to tell her otherwise.
Images Courtesy of Mary Sauer (7)