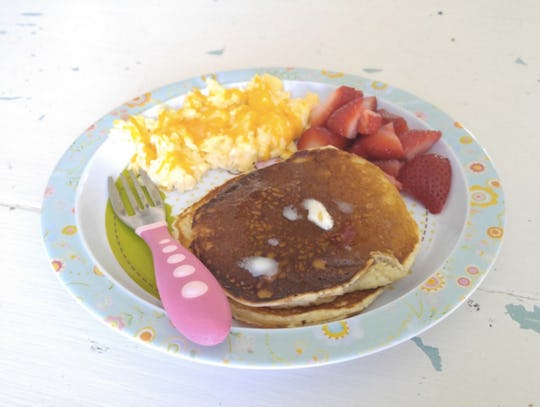 I Made Goop's Kid-Friendly Recipes, & This Is What Happened
First, a confession: I kind of like Gwyneth Paltrow. The truth is, when I browse around Gwyneth's lifestyle website, I am actually inspired by her way of life, even if it is unrealistic. Her website focuses on a healthy, well-rounded life, and that's really attractive to me. It's not about weight loss or being stick thin or being able to afford expensive clothing and trips. It's about living well and living healthily. I love the recipes, the pictures, and the commentary on culture, fashion, and parenting.
I guess what I'm trying to say is, if you've come here for a round of Gwyneth bashing, you've come to the wrong place. As out of touch as her life may seem to some, I am not embarrassed to admit I am a fan of Goop. Sure, Gwyneth most likely has a nanny, personal trainer, chef, and house-cleaning team to assist in her journey of put-togetherness, but that doesn't necessarily mean everything she posts is irrelevant to this working, middle-class mom of two… or does it?
I set to find out if there was anything about her life I could apply to mine; $100 moisturizer? Probably not. How aboyr $250 sneakers? I wish. It seemed the simplest and cheapest place to start was with food. So, I decided I would cook a breakfast, dinner, and lunch from Goop's kid-friendly recipes and serve it to my 1-year-old and 3-year-old daughters.
The Experiment
Before getting started, I wanted to set a clear criteria for what I would consider success in this experiment. First, I needed these meals to be affordable. Most weeks I aim to spend no more than $125 when I feed my family of five (three adults and two kids). The way that works out, I have $12 to spend on each dinner meal with some money left for lunch and breakfast foods.
Secondly, I needed prep to take less than half an hour to prepare. I work from home and have two small children underfoot, so I have very little time to spend on dinner. Lastly, my family needed to enjoy it. This is kind of weird territory, because my 3-year-old has basically limited herself to a steady diet of baby carrots, macaroni and cheese, yogurt, and peanut butter toast. So, I decided if she would willingly take one bite and say she liked it, I could probably call it a success.
I gave it a week and tried four different kid-friendly meals from Goop's lifestyle site. I picked the meal based on the ease I thought was involved, the ingredients, and the cost. I also factored in the likelihood that my daughters, my partner, and my mom would enjoy the meal.
This is what happened.
Attempt Number One
When I first started browsing the recipes on Goop, I quickly found Gwyneth had tagged all of her kid-friendly recipes as such, so that made browsing the recipes much simpler. The featured recipe at the top of the page was Raspberry and Coconut Flapjacks. That sounded delicious, but it couldn't be that easy, right? Was the winning recipe really the first one I set my eyes on? I kept browsing, but eventually returned to the first recipe and decided we would have breakfast for dinner and eat them alongside some scrambled eggs.
Armed with my grocery list and calculator, my girls and I set out for Target. Since we operate on a pretty tight budget, our go-to grocery store is Aldi. I know Aldi like the back of my hand. I knew I could find oats, butter, sea salt, maple syrup, vanilla extract and raspberry jam there. That left me to track down hazelnut meal, brown rice syrup, and unsweetened coconut at Target or another grocery store. Unlucky for us, I struck out on all accounts. The closest thing I found at Target was a pound of almond meal costing a whopping $9.99, accounting for the majority of my budget. A quick google search revealed you could get 14 ounces of hazelnut meal for $13.
The recipe for Raspberry and Coconut Flapjacks wound up being too good to be true. Breaking my budget for food I wasn't even sure my family would like was not an option, so I didn't even try to track down the rest of the ingredients. Instead, I decided to give a different recipe a try.
Attempt Number Two
On Sunday, I sat down and spent some more time browsing more of the kid-friendly recipes on Goop. This time, budget was at the forefront of my mind, and I settled on a recipe for Black Bean Taquitos from Gwyneth's $29 Food Stamp Challenge.
Luckily, I found everything I needed at my beloved Aldi. When I got home, I crunched the numbers and found I was well within my budget. The entire meal cost me just under $6. I was excited to have found such an affordable recipe on Goop, and I was really hopeful this meal would become a new staple in our home.
I planned to cook the taquitos on Tuesday evening with brown rice and asparagus on the side. Since I had cooked with dried black beans before, I knew they would need to simmer for two hours before I could actually start putting the taquitos together. I didn't include this time in my 30-minute cooking allotment. I also didn't include the 20 minutes the taquitos were in the oven after I put them together.
All the extra time aside, this recipe was incredibly quick and easy. My girls and I had a busy Tuesday and I started dinner later than usual. I was able to throw the recipe together in well under half an hour and none of the instructions felt above my skill level as a cook. Sure, my kitchen was trashed afterwards, but I have a knack for trashing my kitchen even when making something as simple as a sandwich.
Last came the real test for whether or not this Goop recipe was actually as kid-friendly as they claimed. My 3 year old ate one bite, said "yum," and then refused to touch it again. Does that mean she didn't like it? Eh, I am not so sure. As I said earlier, she isn't the most adventurous eater these days. My 1 year old skipped past the whole taco experience and ate the beans out of the middle; I think the corn tortilla was too crispy for her (she only has a few teeth).
All three adults living in our home (my husband, my mom, and myself) loved them.
Attempt Number Three
The next week, I included a breakfast and lunch recipe from Goop in my meal plan. For breakfast, I planned Bruce Paltrow's World Famous Pancakes with scrambled eggs and fruit. Even though this recipe was right on budget, it was not a quick and easy meal like you might think, which was absolutely disappointing because I picked it thinking it'd be a 1-2-3 dinner option that everyone would love.
This recipe makes three dozen big pancakes and they had to be cooked one at a time in my skillet. It took me over an hour to the cook the entire batch. As any parent knows, finding 20 minutes of spare time to do something is a stroke of sheer luck. An hour to prepare a meal? Have mercy.
Both girls devoured this entire meal, which wasn't surprising to me. Who doesn't love eggs? And who doesn't love pancakes? Add some strawberries in there and you've got the inner workings of a crowd favorite no matter the age group.
What bummed me out, though, was the fact that this recipe was so, so time consuming. As I mentioned, I picked this meal thinking that it'd be something super simple I could whip together while the girls kept themselves busy momentarily. I was so, so wrong. Not having the right equipment (like a griddle to fit every pancake) and not knowing what I was getting myself into worked against me big time. It's not just that I don't have an hour to spare on dinner; it's that I don't want to spend an hour putting together a meal that should, for all intents and purposes, be a no-brainer to get together, get on the table, and get the girls fed.
I hate to write it off as a recipe I won't be repeating, so next time I will cut the recipe in half to save on time and money.
Attempt Number Four
My last attempt was Turkey Wrap Bites for lunch. I threw these together before church on Sunday and all I needed to do was wash some fruit when we got home for an easy lunch. The wrap bites were really easy to put together; they only took 10 minutes. With only four ingredients, they were also fit perfectly in our tight budget.
Here's where I was surprised: both girls ate the grapes and carrots and refused to touch the turkey bites! Honestly, I was sure this would be an easy win for Goop. We required my older daughter, who is 3, to take one bite and that would was all she was willing to do.
Would Goop's Recipes Become Family Staples?
As the week came to end, I had mixed feelings about my experiment. Even though the pancakes were the only thing my kids devoured, I have come to realize they aren't the most reliable test subjects. Honestly, this whole thing has left me confused — are Goop's "kid-friendly" recipes really not all that kid-friendly? Or are my kids way pickier than I thought?
As far as the rest of the criteria, two of the three recipes fit well with my lifestyle. But here is where I have to be honest: I sifted through so many recipes on the website before finding three meals that looked time efficient and budget friendly. I don't think I will be making a Dungeness Crab Roll or Beef Bulgogi KyeRito anytime soon. I love the idea of working a few more Goop-inspired meals into my rotation, but it would be unrealistic to try to fit these meals in multiple times a week especially since I have five mouths to feed on a pretty tight budget. Still, I am not ready to give up on my fantasy of living a Goop-inspired life. Perhaps I should have started with my library card and the Summer '15 Reading Guide?