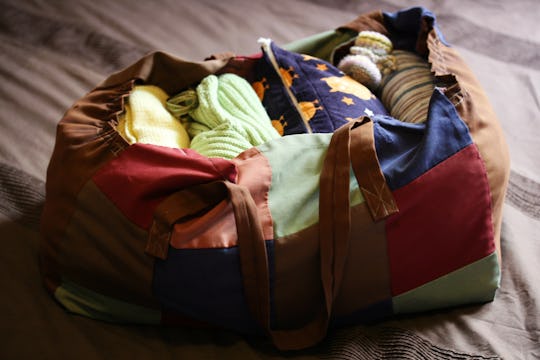 essie/Flickr
I Made Plans With Friends Every Day For A Week, & This Is What I Learned
I've found myself hearing and saying the same thing over and over again in the two years that I've been a parent: It's hard to find time with friends once you've had kids. As an admitted introvert, it's easier to just do my own thing, though life is happier and more fulfilling when spent with people you enjoy and love. Like many busy parents, I get bogged down by the minutia, the to-do lists, and the stress of making everything fit into my day. Between grocery lists, budgets, laundry, and the whims of a toddler, plans for our day tend to come together at the last minute. Oh, and they're usually dictated by the smallest member of our brood.
Making plans at the drop of a hat, and even just even being able to plan ahead, were both things I sorely missed from my pre-toddler days. It isn't because becoming a parent suddenly meant I forgot everyone else existed, but it has made it harder to reconnect with friends, grab coffee, or even get dinner together. Then I thought, what if I tried really hard to make plans for a week? What if I made making plans the plan?
The Experiment
Is it really so hard to make plans? Or is it easy to just say it is? Do we really want the company of adults after dark, or would we rather snuggle up with some grown-up Netflix once we wrestle the little ones into bed? Or is it more of a balance: a little from Column A, tucked alongside a little from Column B? Was I happier surrounded by friends or on the couch alone after my kid went to sleep? I honestly didn't know, and I couldn't remember.
So I tried to make social plans every day for a week to find out, and this is what I learned.
Sometimes Your Friends Just Can't Hang
Most of my friends without kids aren't available for leisurely dates during the workday, though that's time that's most flexible for me. Either they're working or they're too stressed out with their own lives to find time for a mid-day date. And for my friends with kids, it's sometimes impossible to load more than one kid into a car seat for a trip across town that'll only last about an hour. Sometimes, it's just easier (and less stressful) to stay home.
A friend wanted to go to a museum we both love, but it's one we both no longer have a membership to. We had to say no to that outing because we couldn't afford it, which sucked, but it also felt good to turn things down because I legitimately couldn't do it — not because I was lazy or because I didn't want to go.
Sometimes Your Life Just Won't Allow It
Want to know how good my little get-out-of-the-house experiment was going? I failed at even attempting to make plans every single day. I was in the middle of a messy and time-consuming home improvement project that was -- and still is -- taking much longer than anticipated. There I was, on a weekend, covered in filth, without a shower in days, and with no hope of a shower to come (the shower was said home-improvement project). I was in no shape to be seen at the grocery store, let alone happy hour. And naturally, it was the only night I had free to go out without my toddler. I kept at my project instead of picking up the phone. Sigh.
I'd also made plans to watch a sporting event, not realizing until 30 minutes before it started that I'd marked down the time wrong. It was at 4 p.m. Central, not Pacific. My schedule was thrown off for the day, and that stressed out my husband, which stressed me out. We never made it to the watch party. We did see an acquaintance that day, who came over to borrow a portable crib. That counts as social time, right?
Hiding Behind Your Kid At A Social Event Is Not Really Socializing
Being at a party with your kid doesn't automatically mean I've got time to socialize, which is a lesson I learned quite clearly on this particular outing. If I'm just hanging out with my sweet angel, listening to his every need and whim, I'm going to miss out on the grown-up stuff. At a dinner with my husband's good college friends, I took take the lead on child care since it was a "reunion" for my husband. I made sure not to spend the whole night chasing balls around the backyard and instead traded off with my husband from time to time. But even when my husband or someone else had taken over to watch the kids, my mind was never far from him.
Despite it all, I found time to catch up with friends and even had plenty of adult conversation. But I did realize  how easy it would be for a fairly shy gal like myself to just let herself shrink into the kids' zone if I didn't feel like talking — for better or worse.
In lots of ways, after a long day of being my kid's Person for everything, I just wasn't interested in hanging out with a big group. In those small, fleeting moments he was happy playing with himself, I was happily enjoying the silence; I didn't exactly want to talk about grown-up stuff.
You Have To Actually Put Effort Into Your Relationships
I knew better, but writing, "Hey, who wants to hang out?" on Facebook is not a very enticing invitation. It's a bit disheartening, but probably deserved, to put this up and only get a few "likes" and a, "Sorry, we're out of town" comment. Some part of me probably hoped that my friends would be scrolling through Facebook carefully, just waiting for this opportunity to maybe hang out with me at some point. "YES," they would cry. "OF COURSE WE WANT TO HANG OUT WITH YOU." I was putting the bare minimum out there, barely even reaching out to anyone even though my status reached everyone on my friend list. It would be easy for a friend to scroll past my update without thinking that maybe I was talking to them directly. (Friends, if you are reading this, I really do want to hang out with you, and I am not just saying that.)
I'll admit it was a little bit of a cop out, but after 12- and 13-hour days of attending to my son's every want and whim, I really wasn't sure I could handle anyone else's. Even if my friends were interested in catching up, it meant I'd have to listen to more stories (even if these made sense), when all I really wanted was some peace and quiet.
Getting The Kids Together Doesn't Exactly Get Friends Together
A friend with a 2 month old and a 5 year old and I met up at a local children's museum. The kindergartener zipped around, found a buddy from school, and did 5-year-old stuff. Meanwhile, my toddler was a little more clingy, and took some time warming up before going around on his own. I got to chat with my friend as we moved around, but we never really had more than a few minutes to talk.
Hanging out like this, while my son is still needy and my mom friend has kids with different needs, means occasional check-ins and brief moments to catch up. I learned a few things about what's going on in her life: probably about as much as if we'd caught up at a party for 10 minutes. We never really broke the surface level of conversation, though.
Making Plans Is Kind Of The Worst
Aside from the obvious fact that making plans with a toddler in tow is damn near impossible, I did learn that being social with my son means he's getting something out of it, too. He gets to see how a different person acts and speaks, gets to go to new places, and is able to see and learn new things. I can go watch sports by myself — and I will in the future — but if he comes too, he can learn to cheer when everyone else does, and to be quiet when everyone else is. Every new experience expands his mind and heart.
I want him to meet new people, and to see that togetherness is a beautiful default for a life well-lived. I want him to know it's OK to invite someone to stay for dinner, even if all you have in the kitchen is rice and beans, the bathroom is in disarray, and it's been a few days since you vacuumed. If we waited until our lives were perfect before we let anyone in, it'd be pretty quiet over here.
There was a time when it was really hard to make plans or spend time with friends. We were overwhelmed when my son was a baby. Back then, I don't know who needed routine more: him or us. He hated the car, and going anywhere meant you had to really, really, want to go there. We balanced the need to leave the house against the desire to not hear him choking on his own screams in the back seat. We didn't make it very far most days. We got into a pattern of keeping to ourselves, a pattern we're learning to break now that he's older. Though I'm an introvert, trying to load my days will plans and friends was less complicated than trying to figure out how to occupy a toddler at home. And I never, ever regretted spending any of that time with family and friends.
I may have regretted trying to re-grout the shower, but that's a different story.
Images: essie/Flickr, Courtesy of Kelley Gardiner (5), Giphy