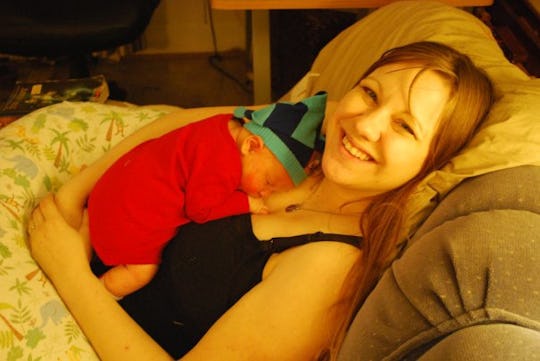 Courtesy of Elizabeth Broadbent
I Don't Make Resolutions For New Year's Eve
All over the mommy blogosphere, I see parents making New Year's parenting resolutions. "I won't yell at my kids so much," these parents pledge. "I'll feed my kids healthier. We'll do bedtime on time every night. We'll get rid of the massive number of toys my kids have accumulated. I'll take more pictures. I'll praise them more, or touch them more, or play with them more. This I so vow, starting New Year's Day."
F**k that noise. I find the idea of making a specific parenting resolution, then trumpeting it to the world, a great way to blast your insecurities to the whole internet, and a wonderful way to perpetuate an unhealthy fixation on parenting. Are we supposed to make a specific parenting resolution now, alongside our regular resolution? What about a marriage resolution? A dog-training resolution? How many resolutions do we need to have before January 1?
That's why I'm not making a parenting New Year's resolution this year, and frankly, I don't think you should either.
I think New Year's resolutions are yet another way for parents to put pressure on themselves and fail to live up to their own expectations. If you don't stick to your resolution, it's just one more way for other parents to shame you, one more sally in the mommy wars, one more way for them to prove they're better than you.
That's not to say that I don't think there's room for me to improve as a parent. I'm always trying to yell less. I'm always trying to take more pictures and spend more time playing with my kids. I want to read to them more, and have them watch TV less. I want them to do more chores.
Resolve to take more photos of your kids all you want. By May, you'll be back to square one.
Parenting is desperately important to me, so I'm always trying to learn and make myself better. I just try not to wait for January 1 to begin a program of self-improvement. A New Year's resolution would concentrate on one thing. I'm concentrating on many, because I want to be the best mom I can be. I have to work on it all, all the time, from January to December. My kids deserve as much.
Even if you disagree with the above assessment of New Year's resolutions, there's one thing you have to admit: they just don't work. One estimate suggests that only 10% of New Year's resolutions are actually achieved by the end of the year, and a study on New Year's gym memberships seems to support this conclusion: in 2012, 80% of people who joined a gym had quit 5 months later. 14% don't even make it till the end of February. So resolve to take more photos of your kids all you want. By May, you'll be back to square one.
Even if I did make a New Year's resolution, it wouldn't necessarily have to do with my kids. That's because I'm more than just a parent. I'm a writer, a wife, an amateur dog trainer, a creative maker of all types: I crochet, sculpt, paint, and Pinterest the shit of out things. I'm also a homeschooling stay-at-home mom who spends the vast majority of my time parenting and teaching.
I love being a mama, and I wouldn't trade it for anything. But since I already expend so much energy doing it, I don't need to put additional pressure on myself to live up to some arbitrary New Year's resolution. Yes, my kids are the most important things in my life, along with my marriage. But I need to carve out some me time whenever I can. Maybe that would be my resolution: the anti-parenting resolution.
So no, I won't be making a parenting resolution this year. I won't be making any kind of resolution at all. I'll just keep chugging along at my own program of self-improvement: trying to yell less, read more; worry less, play more. I'm not waiting until January 1st to work on it, and I won't be quitting by the end of February. I'm not perpetuating a parenting war. I'll do my own thing. I advise all the rest of you parents to do the same.