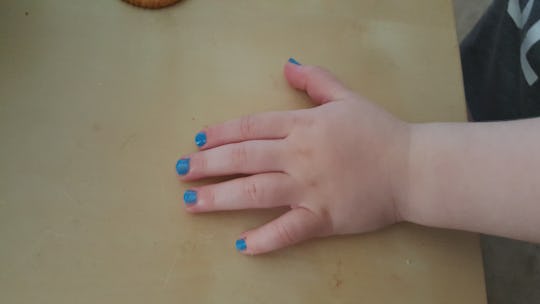 Courtesy of Sarah Bunton
I Sent My Son To School With Painted Nails & This Is What Happened
Thankfully it seems like the general attitude towards letting children express themselves has become more accepting and relaxed. Ever since I've become a mother, the importance of gender equality has only grown for me because I want my son to grow up in a world where the way he presents himself won't warrant bullying. Even though Gwen Stefani's son wears nail polish, just because it's accepted in Hollywood doesn't mean it will be in my neighborhood. Yet I'm still optimistic.
With everything from Target taking down the gender signs on their toy aisles to Taylor Swift's 2015 VMA acceptance speech embracing boys playing princess and girls pretending to be soldiers, I think I have a solid foundation for my hopes. But daydreaming about an accepting future is a far cry from testing it out in the real world. My son has always been fascinated by color, whether it's drawing, finger painting, or playing in my makeup, he just loves anything bright and fun. He's been after me to let him wear nail polish since he ever saw me paint my nails such bold colors. So after some quick research, I found a kid-safe brand and got ready to enter the world of painted nails.
The Experiment
My husband and I both deeply believe in the necessity for equality regardless of race, gender, orientation, and anything else. So if our son comes to us one day and says that he's gay or identifies as transgender, we'll embrace him and love him just as completely as we do now. The only fear my partner and I have, however, is how the world might treat him if he doesn't fit into the status quo. No parent wants their child to be bullied for being "different," but there are some things we know we just can't control.
Right now, my son is just a little kid who loves color and nail polish means nothing more than tons fun colors to him. Every time I paint my own nails, he's curious why he can't do the same. So I wondered how his classmates, teachers, or even his classmates' parents might respond when they saw my son with blue nails. What did it matter, really, if my little boy was sporting a bright hue of blue? I wanted to try this out for a whole week to get a sense for how people reacted, and if my son ever became uncomfortable, I'd cut the experiment short.