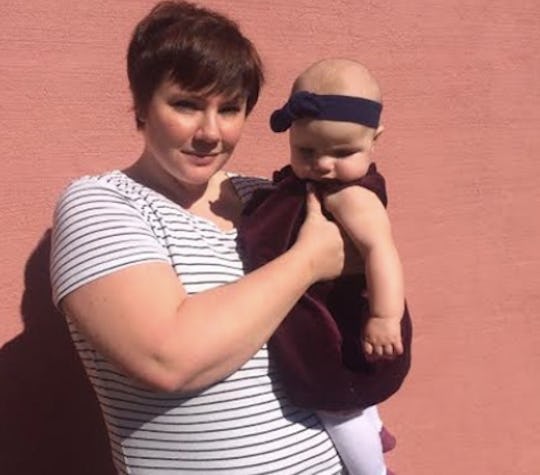 I Tested 5 Plus Size Nursing Bras For Breastfeeding & These Were The Results
If milk is one of the single most important things to my daughter, then a great plus size nursing bra is the same to me as a breastfeeding mother. During my pregnancy, I mostly wore a few comfortable sports bras, but in preparation to breastfeed, I bought a couple of inexpensive nursing bras a few weeks before I was due. And given my full bust, buying a bra has always been a challenge, but I surprisingly found that the ones I'd picked up fit, and I thought I was set.
A few months into my new breastfeeding life, however, I became aware that I really needed a nursing bra with more support. I felt frumpy in the bras I'd bought during my pregnancy and was tired of their plainness, but the all-consuming schedule that came with brand-new motherhood and exhaustion left me caring less about my need for nursing essentials. Eventually my measly two nursing bras began to show their wear, and I couldn't deny the necessity of some new "gear," especially when I saw myself in one particular photo. When I saw how utterly saggy my breasts appeared, I decided the search for superior support and functionality was on.
The Experiment
I found five different bras that seemed to meet my needs. One I bought myself. For the other four, I reached out to the brands who make them in hopes of reviewing their product. I looked for companies that catered to women like myself with plus-size breasts, specifically asking them for their recommendations on which styles would offer the three things I was looking for:
Coverage
Comfort
Support
My boobs are definitely larger than average straight-size cup sizes but actually on the smaller end of a true plus-size range. So I knew if a brand didn't have anything for me, they certainly wouldn't have anything for women with even larger breasts than mine.
The problematic thing about the plus-size market is that often times a brand might advertise they have a wide range of sizes, but their styles and stock are inevitably and unfortunately limited. This is a major disappointment for a buyer like me. Another problem? Brands often misunderstand what being plus size actually means. One of the companies I reached out to provided me with links to styles they considered plus size, but they were really just "full coverage" bras, because when I gave them my size — 42DDD, according to their measurement chart — I received a reply stating their apologies because they don't carry nursing bras in my size.
I was, however, successfully able to try out five other plus-size nursing bras, and here are my thoughts after wearing each one for at least five days. There's a photo of me in the same top with each bra so you can see the shape each gave me.
Plus Size Seamless Clip Down Nursing Bra, $27, Motherhood
Around week 10 of my pregnancy, I thought it wise to pick up a comfortable maternity bra that would adjust to my breasts growing. I went where I'm sure lots of newly pregnant women go for maternity wear: Motherhood Maternity in my local shopping mall. I actually wasn't aware of any other brand where I could get a maternity/nursing bra in the beginning. I ended up buying their plus size Seamless Clip Down in 1X. It was recommended to me by the sales rep as their bestseller for comfort.
In the end, I use this bra as one to wear around the house. As far as the size, I don't necessarily love how there are only three options (1X, 2X, and 3X), as if only three sizes are going to work all plus size women. I'm also not a fan of how far the bra extends into my underarm, and I found the padding that's supposed to offer support to be ill-fitting of the actual size of my breasts, so I ended up taking it out.
For me, this bra works best as a back up nursing bra, the one I wear if all my others are stuck in the laundry.
YooToo Bra, $50, Love Yoo Too
This fairly new company surprised me with the simplicity of their product. They only have one style, but they've put time and effort into perfecting it. This bra is incredibly comfortable, but there isn't a huge amount of support. It's the first nursing bra I've ever felt dainty and feminine in, so I'm very happy with its design. They also group sizes into only four options: S through XL, with four additional sizes in S+ through XL+. I ended up needing a L+ so there's only one more size for women bigger than me, which unfortunately still marginalizes a majority of plus-size women.
I was, however, extremely impressed with their customer service and willingness to work with me to get the correct fit since I originally thought I would fit into a smaller size. The product is high quality yet affordable.
Lavender Sorbet Plus Size Nursing Bra, $80, Cake Maternity
This particular style is Cake Maternity's premier plus size nursing bra. I ended up being a 40F, according to their size chart, and there's still a whopping seven more cup sizes available from there. In terms of coverage, comfort, and support, this bra absolutely takes the cake (pun very much intended). It was truly refreshing to find a brand who saw the lack of options for plus size busts that have done something about it. The attention to detail in the make of the bra really stood out to me, and it's definitely a different story in terms of my confidence to wear such a quality bra.
When I first wore the bra, I noticed the shape of my breasts were a little more pointed than I'd prefer, but after a few wears and a wash, the bra formed to my natural shape. As far as functionality when it comes to actually nursing in this bra, the only downside is that I find the snap to pull down for nursing a little too high on the strap which makes snapping it back up when I'm done a little uncomfortable. Otherwise, this is probably my favorite of the bunch and has become my go-to nursing bra.
Sexy T-shirt Nursing Bra, $64, Bella Materna
After discussing styles with the sales rep, I was initially nervous to try a nursing bra with an underwire that she suggested for me. Everything I had previously read about breastfeeding advised to stay away from wired bras for comfort. But when she said, "I personally have seen hundreds of women jump for joy in this bra saying, 'Finally a bra like my bra before, I feel 'normal' now,'" I couldn't help but to give it a try.
And honestly? I have never felt so sexy in a nursing bra. It seriously gave me so much support that when I looked in the mirror, my boobs looked more amazing than they ever did pre-baby. To be honest, this bra beats any of the other bras I could fit into a few years ago. I am a 38F in this bra, and there's only one cup size bigger available, so they unfortunately still don't offer much for breasts bigger than mine.
The first time I wore this bra, I was so not used to wearing a wired bra anymore that I was dying to take it off by the end of day. I did manage to take a nap in it that day, though. But after wearing it a few more times, I'm totally used to it, and a full day in it isn't a problem. I also thought the padded support of the cup would make the actual act of nursing difficult, but the cup folds easily, and it shapes and supports just as well after readjusting once I'm done breastfeeding. This bra also comes with rings to replace the nursing snaps to convert it to a regular bra once you've weaned, so you get more for your buck.
Anytime Nursing Bra, $48, Bella Materna
After trying two styles from this independent brand, they need to be more well-known than they are, because they compete exceptionally well with every other plus size nursing bra I've tried. I found this brand to be the most intuitive, and their unique features are a definite selling point for a breastfeeding mom: a little tip found on the package of the Anytime Nursing bra instructs you to fold the pads in half when you pull it over to nurse for easier adjustment after you're done.
The Anytime is also not a conventional nursing bra because it doesn't have snaps to pull down. The design is almost like a crossover in the front, so you just pull your breast out and move the bra to the side while feeding. I wasn't sure I would like that at first, but it hasn't proved to be a problem. Much like the YouToo bra, this bra is sized from S to XXL with additional sizes in "Full Cup" from S to XXL. The Full Cup sizes have padding to offer more support. I ended up with the XL Full Cup. Again, there's unfortunately not much room for someone bigger than myself since they only have one more size available, but the padding in this bra is probably the best I've come across in bras similar to this (Motherhood Maternity's Seamless Clip Down and the YooToo bra), because its shape is bigger and more natural.
Did I Find A Nursing Bra That Worked?
After this experiment, it does feel a little easier to find a great fitting bra as a full-busted breastfeeding woman. I was able to find nursing bras that came in bigger sizes than normal bras, but this exercise still made me keenly aware of the lack of options for plus size nursing women.
On the other hand, having tried out five different bras that offered features I definitely wasn't getting from my other bras clearly helped me to see that when it comes to a nursing bra, taking the cheapest option in the name of convenience or selflessness (since it was easy for me to think the baby deserves all the nicest things instead), isn't helpful in the long run. From simply trying out these bras and seeing the difference in my comfort and support, I learned my baby also deserves a mom who feels comfortable and confident in the role that gives her the sustenance that is so vital to her. And that is exactly what I plan to give her — and myself.