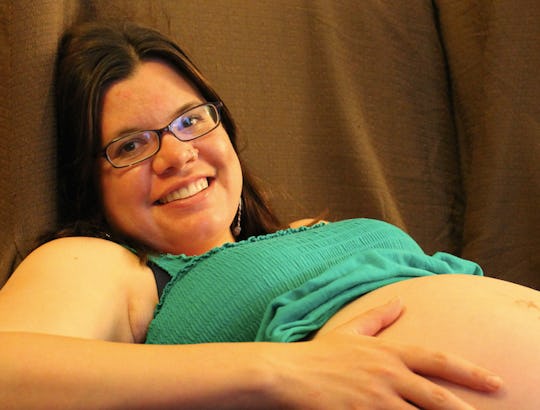 Courtesy of Samantha Taylor
I Thought Sharing Ultrasound Photos Was Silly, Until I Had One To Share
It seems like all of my friends' pregnancy announcements often include a shrimp. Not the kind that's tasty with garlic butter, mind you. I'm talking about shrimpy little fetuses in the early stages of gestation. Yes, countless pregnancy announcements often include ultrasound pictures posted to social media. I think babies are the cutest things ever, don't get me wrong But that's where I draw a distinction: Babies are cute, not little shrimp-like fetuses smaller than a fingertip. And I have to admit that I thought sharing ultrasound pictures was silly. That is, until I had one I wanted to share.
Eventually, I'd come across an ultrasound picture that I felt was so adorable, I had no choice but to break all of my self-imposed rules and put that blurry little black and white face out for the world (or at least all my Facebook friends) to see. But it took me a looooooong time to get to that point. While pregnant with my first child, I felt that ultrasound pictures were nice to enjoy in the comfort of your own home Just you and your significant other, oohing and ahhhing at the majestic little creature brewing in your uterus. Maybe you even text a photo or two to your parents. But I felt that should be the extent of it.
There is just something so intimate about an ultrasound picture, especially one in early pregnancy. That baby is not yet recognizable as a baby, and most of the image is taken up by your actual uterus. Even later in pregnancy, baby features look warped in ultrasound pictures.
Ultrasound pictures are a fun souvenir from a procedure that serves an important purpose: to determine your pregnancy is progressing normally. And I was admittedly super excited for this souvenir when I was pregnant with my first baby. My husband and I squinted at the image on the screen at our seven-week ultrasound, beyond ecstatic to see the little shrimp with the flickering heartbeat. We headed home with our glossy ultrasound photos clutched in hand, and texted our moms pictures of the images.
My husband's mom responded with some appropriately nice sentiment. "Oh, how beautiful. I'm so excited to meet her or him." My mom, however, was less politically correct.
"What am I looking at exactly? Can you call when you have a chance and explain these pictures to me?" But even after my explanation, she remained unimpressed. "I guess I see it," she said. "I wouldn't exactly call it cute just yet. But I'm sure when she or she is born, the baby will be adorable."
Then, something incredible happened. She smiled.
Miniature baby sex organs, unidentifiable as they may be, are also frequently displayed all over social media in ultrasound pictures. "Look, you can see the hamburger! It's a girl." Baby genital pictures aren't normally socially acceptable, but somehow, in an ultrasound image, they are totally Kosher.
At the time, it felt like my mom and I were alone in our opinion that ultrasound pictures were better kept private. Ultrasound pictures not only graced countless birth announcements, but many parents-to-be even framed ultrasound photos to hang in their nurseries. I attended a baby shower where, I kid you not, there were framed ultrasound photos on display. My vow was to never post an ultrasound picture on social media. My husband, not bound by the same vow, did post one 3D ultrasound picture of our son on Facebook when we found out he was a boy, genitalia not included.
When I was pregnant with my daughter, I continued my vow to not post ultrasound pictures on social media. I did pay for a special 3D ultrasound session towards the end of my pregnancy because I wanted to to double check she was a girl and take one last peak at her before she was born. And as the ultrasound tech slid the wand over my the goo on my belly, we could make out chubby baby cheeks and even hair on her head. She was sleepy, and I rolled around to try to wake her. She moved her little hands and wiggled her pudgy toes. I had to admit, she was adorable. Even though I couldn't make out the details of her features. Even in an ultrasound.
I broke my promise to never post ultrasound pictures to social media that day. I had to.
Then, something incredible happened. She smiled. We knew she was in the dark and didn't know we were looking at her. But still, she smiled and the ultrasound tech caught it on camera. Even in utero, she was more than a blurry black and white image. She was a baby with emotions. Or gas. But she was a baby. Our baby.
I broke my promise to never post ultrasound pictures to social media that day. I had to. I had to post the ultrasound photo of my baby smiling. And you know what? I don't regret it. Not one bit.
I now have a new understanding of those parents who post ultrasound pictures to social media. Even those who frame the ultrasound pictures to display in the nursery. They are proudly sharing a glimpse of a person they would soon love beyond measure. The best shrimps we'll ever have.