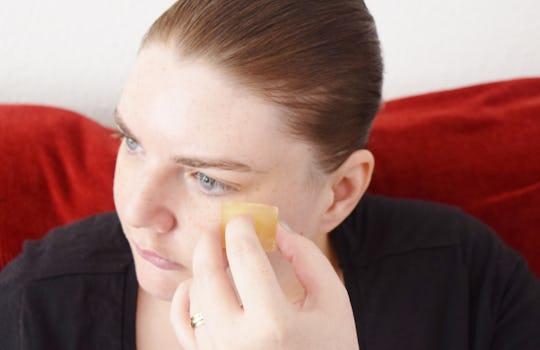 Courtesy of Laura Pearson Smith
I Tried 3 Kitchen Beauty Hacks For My Skin
I love beauty and the rituals involved in keeping myself groomed and made-up. When I'm busy and stressed out, however, my usual, self-indulgent routine goes out the window. Instead, I'll just reach for whatever is closest and can do the job. That's why I started turning to the contents of my kitchen to find ingredients for quick and easy beauty hacks. That way, I could just reach for whatever's closest without having to grab any products.
There are literally hundreds of kitchen cupboard beauty hacks on Pinterest. Some of them are gems (coconut oil as a shaving balm, or a brightening and moisturizing mashed avocado and banana face mask), and some of them are nonsense (putting toothpaste on pimples, or using coffee granules to get rid of dark circles — FYI, neither of these work). When you find a good DIY beauty hack, however, it can change your world.
I've chosen three of the most popular hacks to test out when you don't have time to wash your hair, you haven't gotten any sleep, or you can't remember where you put your facial cleanser because you're too busy trying to find your L.O.'s teething ring.
The Experiment
I review high-end makeup and beauty products daily, so I wanted to switch that up and try some of the most popular kitchen beauty hacks on Pinterest. I wanted to see if lemon juice can soak up the grease in our roots, if olive oil is an effective makeup remover, and if green tea ice cubes can make your eyes look like you've slept for a century. I tested all three several times over the course of a week.
Hack #1: Green Ice Tea Cubes For Under-Eye Circles
Ice has been used in beauty treatments for centuries, primarily to firm and tighten the skin, minimize pores, and improve blood circulation. That's why cryotherapy treatments are so popular, despite their associated risks. A humble little ice cube from your freezer can pack quite a punch, especially if you've made it with green tea. Green tea contains caffeine, which is said to constrict blood vessels, and tannins, which are said to lighten dark circles.
I applied the ice cube directly to my skin, but I let it melt a bit first so it didn't stick to my skin. (You can probably wrap it in a layer of muslin cloth if you prefer.) Then I rolled the cube around my under-eyes and up over my brow bone. It left my under-eye area feeling firmer, flatter and brighter; and it felt very refreshing too. It dramatically reduced puffiness, redness, and dark circles in a relatively short period of time.
Hack #2: Lemon Juice For Dry Shampoo
Dry shampoo is a lifesaver if you don't have time to wash your hair, but if you don't have a bottle handy, beauty bloggers suggest applying fresh lemon juice to your roots to soak up excess oil. (I squeezed my own lemon juice and added it to water.) The acidity of the juice is supposedly supposed to help strip the hair of its oils, effectively de-greasing your hair. The internet is awash with people saying it works for them, but does it really?
I applied my lemon juice concoction to my dry roots and gave it an hour to do its work and then dry. Unfortunately, it just made my hair damp and then crispy. Thumbs down — it was a fail for me.
Hack #3: Using Olive Oil As A Makeup Remover
A lot of makeup is oil-based, and we need an oil to dissolve oil. That's why many people use drugstore or high-end facial cleansers or micellar water (essentially, oil in water) to remove makeup. So theoretically, there's no reason why olive oil wouldn't also work as a makeup remover. Olive oil is gentle to our skin, it's non-comedogenic (meaning it doesn't clog our pores), and most of us have a bottle in our kitchen cupboards.
I lathered on some olive oil (any brand will do) onto a full face of makeup and started to gently massage it into my skin, as I would with my cleanser. It worked quickly and did a decent job getting rid of my makeup, but it didn't get rid of everything. It also left my skin feeling like it had a thin layer of grease on it, so I needed to wash my face with a standard water-based cleanser. This is a workable hack – it's just not as good as an actual makeup remover.
The Results
This experiment was definitely a fun one and it made my regular beauty routine more interesting. The lemon juice for greasy hair hack was a complete fail, which is a shame because lots of people would like a more natural alternative to dry shampoo. The green tea ice cubes, however, worked quite well, proving that there's a much more cost-effective solution to dark circles and puffiness than the pricey eye masks and creams we see everywhere. The olive oil as a makeup remover hack worked as well, but I definitely wouldn't swap my cleansers for it.
I don't think these hacks are any more or less time-consuming than using regular products. But if you're looking for a natural, chemical-free beauty treatment, or if you just don't want to blow a ton of money at Sephora, they'll do in a pinch. Plus, if you're half asleep and can't be bothered to climb the stairs to your bathroom cabinet, you can always head to your kitchen.