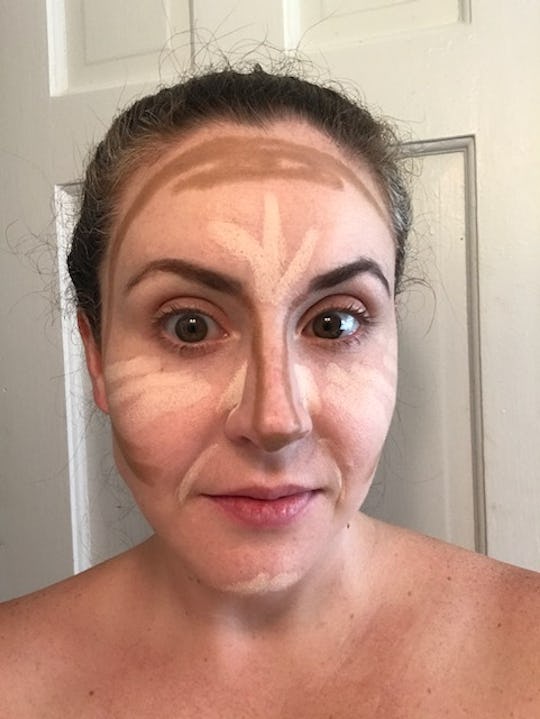 Courtesy of Maureen Shaw
I Tried Contouring Like Kim Kardashian West, & Let's Just Say I Rocked It
Everyone has a guilty pleasure, and mine happens to be Keeping Up With The Kardashians. I'm a work-from-home mom whose "glam" style consists of brushed teeth and remembering to wear a bra, so I'm fascinated by Kim's enviable beauty and lifestyle. That's why I decided to contour like Kim Kardashian, and it went so much better than I expected.
When I first heard that Kim had launched a makeup line, starting with a creme contour and highlight kit, my interest was immediately piqued. Contouring, or enhancing and defining facial features with makeup—has become quite the rage, thanks in large part to the Kardashians, who have popularized this ultra-sculpted look. For once, I wanted in on a fun trend.
Since becoming a mother, I've had little to no time for makeup and Kim's contour kit sounded like a fun way to jumpstart a new beauty routine. Seriously, I am so tired of looking tired and I desperately wanted get out of frumpy mom mode, because enough is enough. So I ordered my kit.
While I waited for the kit to arrive in the mail, I watched Kim's tutorial videos to learn how to contour. I'd always assumed contouring was hard to do, but her instructions broke the process down into a few easy-to-follow steps. She made it look so effortless. Kim had me convinced I could do this myself without hiring makeup artists or buying a ton of products.
It's worth noting that the extent of my experience with makeup is limited. While I have a decent handle on eye makeup, I've never paid much attention to my skin, aside from concealing the occasional blemish. The KKW Beauty contour kit was going to pop my proverbial cherry in this regard; each kit comes with a matte highlighter, shimmer highlighter, and two shades of contour, none of which I had ever used.
I've largely stopped paying attention to my appearance or indulging in non-essentials, like makeup. It was refreshing to do something for myself that was independent of my role as a mother.
When I finally got my kit (it only took two business days, but it felt like longer), I immediately tore it open and got to work. I couldn't wait to look "bronzy" and "glowy," as Kim says in her tutorial videos. I prepped my face with light moisturizer (Aveeno Positively Radiant moisturizer with SPF, $12.29), and I began applying the matte highlighter where Kim suggested: under my eyes, along my laugh lines, and on my forehead and chin. The contour followed in the hollows of my cheeks, along my hair and jaw lines, and on the sides and tip of my nose, just like Kim does in her videos.
I then blended the products on my face—first the contour, then the highlighter— using the kabuki brush and sponge tip applicator that came with the kit. Because the product is very creamy (seriously, the sticks are like crayons for your skin), it blended very easily and quickly.
The resulting look was both natural and remarkable; I didn't look like I was wearing a lot of makeup and my face looked noticeably slimmer. Contouring for the win! It took me all of ten minutes, which is a bonus for a busy mom like myself.
Next, I used the shimmer highlighter on the bridge of my nose, brow line, cheeks and cupid's bow (also per Kim's advice) to get a striking glow. I finished up with some blush, eye shadow and mascara. Et voila! Damn, I looked different. And good. I don't mean to sound conceited (I swear I'm not!), but I couldn't stop looking at myself in the mirror. I'm used to seeing pale, sallow skin and tired eyes in my reflection (thanks kids!), not a bronzed, sculpted face. I was definitely feeling myself.
To be clear, I don't rely on my looks to make or break my self-confidence. But with so much of my energy devoted to raising two little children, I've largely stopped paying attention to my appearance or indulging in non-essentials, like makeup. It was refreshing to do something for myself that was independent of my role as a mother.
I felt glamorous AF for the rest of my day, even while running mundane errands. Pardon the cliché, but there was an extra spring in my step—and it didn't go unnoticed. When I picked up my kids from camp, the front desk staff literally gasped: "Wow! We barely recognize you! You look amazing!" I'm not going to lie, hearing that made my day.
It's amazing how such a quick experiment with contouring transformed my face and attitude. It was a long overdue moment of pampering that positively impacted my entire day. Even my daughter, who is known for her sharp criticism of basically everyone and every thing, gushed, "Mommy, you look so pretty!"
So if you're reading this, Kim K: thanks for the inspiration to do something for myself and for the ensuing ego boost — this mom needed it.